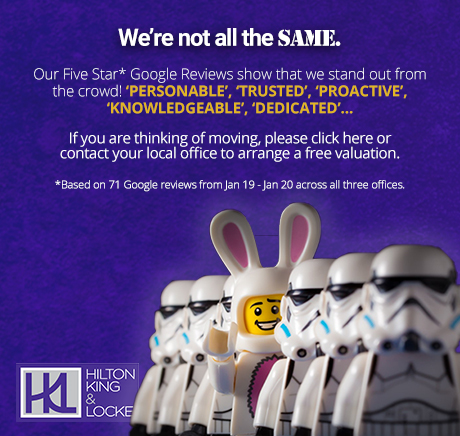 paragraph

Over 50 years of combined experience

Hilton King & Locke opened in 2001 and the Directors, Mark Prieg, Leigh Gridley and Jann Prieg have over 50 years of combined estate agency experience. Choosing the right estate agent can be one of the most important decisions that you make. Property is our passion here at Hilton King & Locke and our focus is to always provide an exceptional service and exceed the expectations of our clients. We understand that letting or selling a home can be a stressful time but by offering a personal yet innovative service, moving home need not be such a challenging experience.

A Professional & Extremely Hardworking Team

We have been careful to select staff we feel convey the professional manner in which the Directors operate at Hilton King & Locke. All of the staff you will deal with will have the same hunger for providing outstanding customer service and a real desire to let your property for the best possible price with quality tenants.

Our Lettings Team is headed by Caroline Ljubisic who is ARLA accredited. She has extensive knowledge on the lettings process, compliances, and lettings market. Our property management is all serviced within our team, so you always know who is dealing with your property.

In order to ensure we are able to provide excellent local knowledge we are careful to recruit staff that live in the local areas. Our sales & Lettings teams are extremely proactive in contacting all applicants for our properties by telephone, email and post to ensure that as many applicants as possible are contacted about your property.

Professional Membership

At Hilton King & Locke, we are members of the Ombudsman for Estate Agents (OEA) The Ombudsman sets and regulates the highest standards and demands certain level of professionalism and commitment to customer service from its members.

In addition our Lettings Manager is ARLA qualified. (Association of Residential Letting Agents) Members are required to work within strict codes of practice for letting and managing property, with extensive knowledge on compliance and keep up to date with any new laws and compliances for Landlords.

Member of Relocation Agent Network:

Hilton King & Locke has been selected as the best independent estate agent by Relocation Agent Network to represent them in Iver. Relocation Agent Network is a division of Cartus, the premier provider of global relocation services, moving over 100,000 families every year. In the UK, Cartus uses Network members to help buy and sell or let homes for these relocating families. As a result of been chosen for membership we have access to out of town buyers/ renters moving to the area. Cartus limited act for many corporate companies and Hilton King & Locke benefit from being able to sell properties to their relocating employees. As well as relocating families moving with Cartus, the Relocation Agent Network helps house movers in other parts of the country by referring buyers and sellers and renters from one area to another via the network of more than 1000 Estate Agency offices throughout the United Kingdom

Marketing & Internet coverage

We believe successful marketing is key to making your property stand out from the crowd. We offer unrevielled internet coverage. Your property will be marketed on our website www.hklhome.co.uk. We advertise on the Number One property portal 'Rightmove' All of our listings are Premium listings and we are the featured agent in Farnham Common, Chalfont St Peter and Iver.

Your home will also be marketed on www.onthemarket.com, the fast growing property site which has been given plenty of TV coverage.

Social Media

In the third quarter of 2015, it was calculated that more than 20% of the world's population had an active Facebook account, which is approximately 1.55 Billion users. For the UK this percentage is far higher, with more than half the UK population regular users of Social Media. As a result of these remarkable figures, in 2016 Hilton King & Locke decided to integrate a property search facility into our Facebook page. This facility has proved to be extremely popular, users are not only able to browse properties for sale and to let whilst on Facebook, but also share property pages with their friends and family, who in turn share pages and as a result greatly increase the reach of the advertising for our properties.

Quality Newspaper Advertising

Your property will be featured in our prestigious and eye catching full colour advertisement in the Buckinghamshire Advertiser, covering areas including: Iver, Stoke Poges, Farnham Common, Gerrards Cross, Chalfont St Peter, Beaconsfield and other surrounding villages. The description of the properties are carefully written in consultation with the sellers to ensure we attract the right type of buyer who will see the most value in your home. Within the advertisement internal and external photographs are used to ensure the best representation of our properties.

Property Brochure

We will prepare a quality set of colour particulars accurately detailing the property, which will also feature a selection of internal and external photographs illustrating and highlight the best marketing features of your property, and floor plans. Good quality particulars are vital as they provide potential customers with their first impression of your property. For a small extra fee we can provide a professional photographer. High quality images are essential in modern day estate agency when most applicants start their search on line, it is essential that their attention is immediately captured by stunning imagery of your property.

Floor Plans

We are able to prepare a floor plan of your property free of charge, which are invaluable for illustrating the size and layout of your property.

Extensive Database of Tenants

We have a large database of applicants across our network of offices including Relocation companies looking to rent in your area. Once you have an approved the brochure, all of our suitable applicants will be contact with details of your property by e-mail and phone.

Accompanied Viewings

All our property viewings are accompanied by a member of staff from Hilton King & Locke. We are on hand to answer any questions the tenant may have. If the property is vacant, you may wish to provide us with a key, or we can liaise viewings with yourself or the current occupier. We can confirm that our keys are held securely in a coded system

Property Feedback and offers

One of our key objectives is to ensure that at all times our Landlords receive the best possible service and advice from us. We will always provide full feedback to you whether good or bad, as we feel all feedback is constructive. We discuss with you the marketing to date and any suggested amendments to our future approach.

When we receive offers, we will provide you with full information of the offer, so you can make an informed decision. Potential tenants will be asked for information on: Number of occupiers, occupations, approximate income, current situation, proposed tenancy start dates, and term of tenancy. We will also find out there will be any children, pets or special requests as part of the offer. We will then negotiate on your behalf to obtain the best rent price possible or terms that are acceptable with you.

Tenant Referencing

Once you have accepted an offer, we will proceed with references on the potential tenant. We use a credit reference company called 'Letsure' they will carry out a credit checks and employment and Landlord references if necessary. We also request ID and proof of address from all applicants.

You will be given a copy of the reference report once completed.
Contact us
Check out our available properties
You can see the properties we're currently marketing for rent by clicking the button below:
View properties