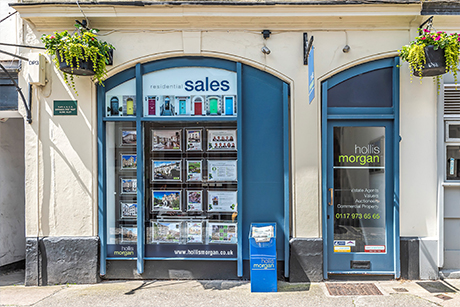 Title
Welcome to Hollis Morgan
paragraph

Andrew Morgan MBE and Oliver Hollis established Hollis Morgan in 2010 and their motivated sales team headed by Calum Melhuish have over 100 years experience with a huge knowledge of Residential Property in both the Centre, North West Bristol and other prime areas of the City.

paragraph

With years of experience we know that the key to successful selling is to create momentum based on the combination of a professionally considered asking price, powerful marketing and skilful, effective negotiations to close a sale.


Independent Local Company

Proven track record

A highly motivated and enthusiastic team with over 100 years of property experience

An excellent reputation for customer service

Each member of the team pays as much attention to the sales progression as agreeing the sale.

A Clifton Village office with high profile advertising

paragraph

Our Clifton Village Office ...

We appreciate that despite modern technology, sellers and buyers still like to meet their agent in attractive surroundings even if prestigious corporate offices belong to a bygone era.


We have therefore chosen a small Georgian building adjacent to the Clifton Club in one of the picturesque locations in Bristol where shoppers, tourists and locals mingle and enjoy the relaxed ambience of Clifton Village.

Our street presence is simple and accessible backed up with the latest technology whilst our first floor meeting room will provide a quiet and private place to do business.

paragraph

It is no longer good enough to simply base a valuation on 'what the flat next door sold for'. We will supply you with a detailed history of asking prices and Land Registry prices in your area and demonstrate a comparison between your property and others. Add to this our knowledge of individual homes and our awareness of the marketplace, we are able to provide you with the accurate valuation to begin the marketing campaign.




paragraph

The valuation is based on the location, size and condition of the properties combined with land registry sold prices within the immediate area and our own personal interpretation of current market trends.

In our experience the first 3 - 4 weeks of marketing a property are the most crucial.

It is generally when the maximum price is likely to be achieved - it is vitally important to quote an asking price which attracts the maximum amount of interest during this period.

paragraph

Online advertising accounts for the majority of the buyer enquiries so a strong online presence and excellent photographs are vital for your property - we rely on a combination of our bespoke property website alongside our dedicated micro site within the Rightmove Portal and Zoopla- these two websites provide the majority of our enquiries and it is vital that your property is profiled on BOTH portals - many Clifton estate agents use just one or the other.

We have a high profile weekly press campaign in the Bristol Property Live newspaper with additional adverts in the Weston Daily Press and North Somerset Times where appropriate.

Our Mailing list is meticulously managed with new applicants regularly registering at our Clifton Village office.

paragraph

We pride ourselves on good communications and building an excellent relationship with our clients. A good property will generally sell itself but our skill is required to achieve the very best possible price and encourage buyers to a prompt exchange of contracts. We insist on credit checking all would-be purchasers prior to agreeing a sale and will assist your buyer to complete surveys and mortgage valuations as quickly as possible whilst staying in regular contact with both parties' solicitors. This should ensure any legal enquiries are settled promptly whilst any difficulties are dealt with firmly and decisively in the best interest of our client.

paragraph

The Team will keep you regularly informed during the marketing period and will do everything possible to lead to an early exchange of contracts and a smooth completion. Unlike many other estate agents we have a low rate of sales that have fallen through because we actively and personally manage the process - we know you and your buyers.

paragraph

We are very proud of what our clients say about us - please see just a few of our favourites via the link above!
Contact us
Check out our available properties
You can see the properties we're currently marketing for sale by clicking the button below:
View properties