Home Health Check: get expert insight into your property's energy efficiency
Getting your home ready to sell? Or planning to improve a property you've just bought? Then you'll want to know how energy-efficient it is, and what improvements can reduce your bills and promote a cleaner, greener way of living. You won't get that from an Energy Performance Certificate (EPC) rating. So that's where the new Home Health Check from British Gas comes in.
What is a Home Health Check?
The Home Health Check is a brand-new service that will provide you with deeper insight into how energy is used (and wasted!) in every part of your home.

A trained energy-efficiency expert will visit your home and carry out a detailed inspection of your heating system, energy habits and usage.

You'll get clear recommendations for cutting your bills and shrinking your carbon footprint – from low-cost quick wins, such as bleeding your radiators, through to guides about bigger investments, such as heat pumps or solar panels, that could really pay off in the long term.
How will your energy savings be calculated?
Heat-mapping technology and thermal imaging of your radiators will show exactly how your heating system is performing.
Other factors affecting energy use around your home will also be used, to see where the biggest improvements can be made. For example:
Keeping the heat in: By checking your insulation and performing heat loss analysis, along with inspecting your windows and checking for draughts – the experts can suggest solutions that will keep your home warm and save on heating costs.
Going smart: From smart meters to smart thermostats, the energy experts at British Gas will look at what you currently have – and what the potential savings of upgrades might be.
Everyday habits: It's not just about what you have around the home. It's about how you use it too. The British Gas energy experts will explain how small changes can add up to big savings.
Green tech: Solar panels and heat pumps are great ways of going green. The long-term savings they could give you will be explained.
Support: The experts will answer any questions you have and talk you through government grants and funding.
Every home is different, so there's no one-size-fits-all solution to improving energy efficiency. But the energy expert visiting your home will take the time to understand what's best for you and your property.
Interested in a Home Health Check?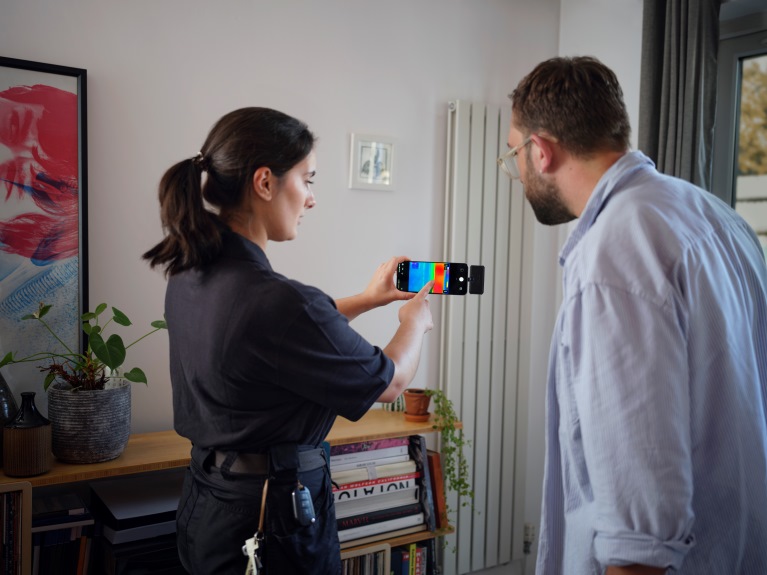 Getting your property checked out couldn't be simpler. And at just £75, down from £99, it's an affordable way of getting the best advice on saving energy.
Here's how it works:
Step 1: book online
Just register your interest here and the team at British Gas will get in touch to book your appointment. There will be a few questions for you to answer when you sign up, then around two weeks later, an expert will be round for your Home Health Check.
Step 2: the visit
Appointments take about an hour. Before inspecting your property, the British Gas energy expert will have a quick chat to learn more about how energy is used around the home. They might ask to see some old energy bills too, to help them to get a full picture of what you're currently spending. These are the types of details that aren't assessed during an EPC assessment.
Step 3: your report
After the visit, all the findings, recommendations and answers to your questions will be put into a detailed report. You'll be able to access this via an exclusive Home Health Check app, so everything you need to be more energy efficient will literally be at your fingertips.
Energy saving made clear and simple
Improving your home's energy efficiency doesn't have to be complicated or expensive. Book your Home Health Check with British Gas today – and see how much you could save.