Buying a new build was our right move
Candice and Richard, both from Milton Keynes, found an alternative way to fund their deposit and stumbled upon their dream home by accident, making Candice think even more that it was the right home for them.
They'd been living together at Richard's mum's house for 18 months when they decided the time was right to make their next move. Candice suggested they should find somewhere to rent first to give them the chance to save up for a deposit, but Richard thought that perhaps there was a chance they could buy now.
After many evenings spent using Rightmove's 'Where can I live?' tool, they were only finding locations an hour away from Milton Keynes within their budget. With Candice working in Milton Keynes and Richard working in London, this wouldn't have been ideal.
They were reconsidering their options when they got chatting to Richard's brother who had just bought a new build with the government's 'Help to Buy' scheme. They found out that they would need a 5% deposit to buy a new build on the government's Equity Loan scheme, which put areas close to Milton Keynes back in their price range.
They spent a while researching all the new developments in and around the area they would like to live in, but it was actually a development that they came across by accident out driving one day that caught their eye. Little did they know that four hours later they would have made an offer and put down an initial deposit for the plot of their choice.
Similar properties on the market:
Once they'd picked their plot and met with the mortgage advisor, they received a price list of finishing touch options that they could choose from. They couldn't believe that by the time they were tucking into a pub lunch they were looking at interior options for their new home.
After lunch they went back to put down the £500 initial deposit. A few days after this had all happened, their solicitors had been instructed, they got the money together for the rest of the deposit and the help to buy equity loan was approved.
By Saturday they had reserved the house and a week later met the lawyers. Two days later their mortgage was approved, a month later contracts were exchanged and six months later they were in their new home.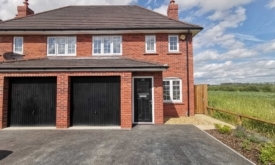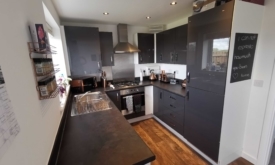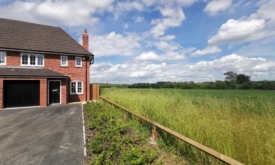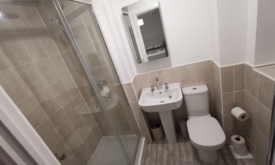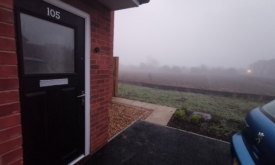 While they waited for the build to start they looked at the design options on offer and what they could afford. Richard did the laminate flooring himself whilst living in the flat which was  challenging although the flooring came out beautifully and they saved quite a bit of money doing it themselves.
"We overlook lots of lovely green space so can be admiring our beautiful view and get a wave from a farmer on a truck which is something you don't have everywhere. So much changed from when we first set out to buy when we found out the options available, and it really is everything we wanted. It's on those Saturday mornings when you wake up and realise you can have breakfast with each other sitting at your own table, looking out at your own garden, in the house that is your own, that makes it feel so amazing" says Candice.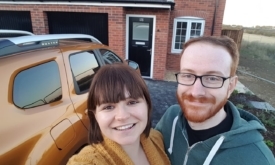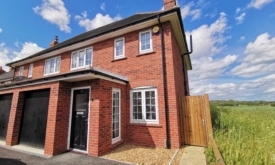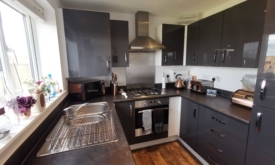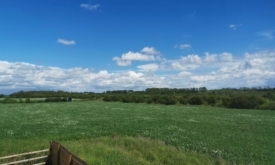 The government's Help to Buy Equity loan scheme lends you up to 20% (or 40% in London) of the cost of your newly built home from an approved developer and then shares in any increase (or decrease) of the property's value. Find out if it might be an option for you, here.