The House That Colour Built: heading to a new area was our right move
Jess and Rick had rented a house together for about four years before deciding to move. Their rented home was a new-build, and although they both loved it, they really wanted to buy an older house and were up for taking on a renovation project.
After searching for the best part of a year for their dream home, one day Jess widened her search area on Rightmove to include some neighbourhoods just outside of where they'd previously been looking, and that's when they found the one.
Jess works in client services while also running her own colour consultancy business, helping people find their dream colour schemes for their homes. Rick is a plant engineer, or "a mechanic for large machinery, not a gardener, as most people think," laughs Jess. While the couple's dog, Merla, "devotes her life to staying cosy."
Jess is passionate about interiors, animals, photography and naturally, colour, while Rick loves making things, and gardening.
Searching for a home with Rightmove
When they first started looking for a home to buy, they viewed everything from cottages to Victorian terraces, but nothing felt quite right. Some needed a lot of work and were Grade II-listed, which would make Jess's interior ideas very difficult to carry out.
In contrast, they also viewed some new-build properties: "These were very nice and new inside, but they weren't to our taste and it wouldn't have made sense to renovate," says Jess. She had a wish-list of things she wanted from the house, such as age (100+ years), big windows and high ceilings, while Rick wanted a utility room and a bigger garden.
"I used to check Rightmove every day, and it was definitely my most visited website," says Jess.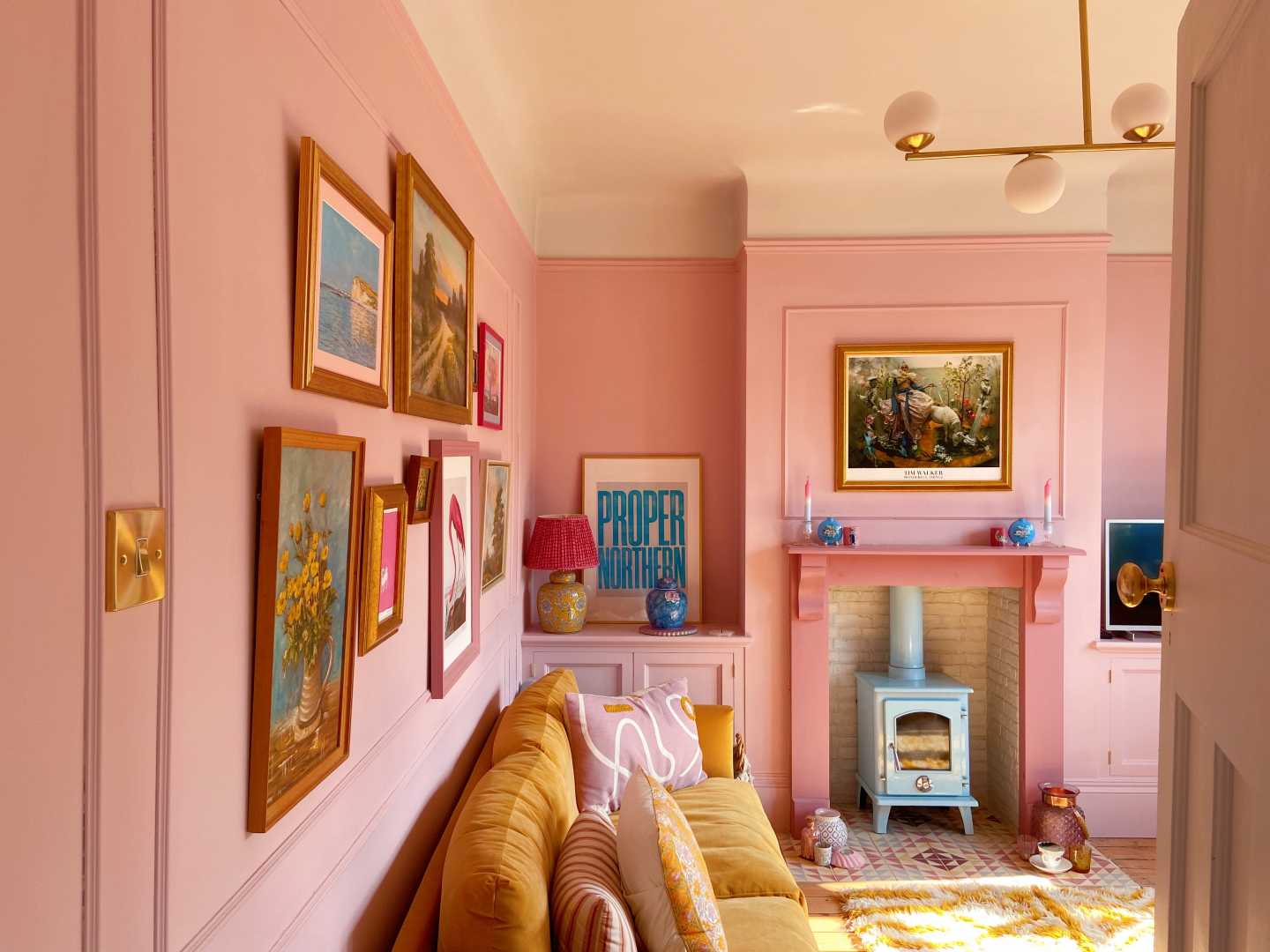 "I used the Draw a Search function to help pinpoint my exact search area, which I loved. One day I moved one of the pins ever so slightly – it was in an area I hadn't properly explored before – and that's when our house appeared."
Jess remembers the moment their home popped up on their Rightmove Instant Alerts: "It was after a weekend of unsuccessful viewings, and as soon as it appeared I said to myself 'what a pretty house!'. It was a Sunday and the estate agent was closed, so I drove down to the house. I knew I would be able to tell from the street whether it would be worth booking a viewing. As soon as I drove onto the street I was in love; it backed onto fields, and all the houses were beautiful."
A viewing was booked for the next day: "Rick was working away all week, so he ended up having his first view of the house via video call. Even though the house was empty and very dated, it felt like it had been such a loved family home, and it had so much potential. I'm good at visualising interiors (something I get from my Grandma), and I could see instantly how nice the house could be with some serious hard work."
The pair put their offer in after their second viewing and it was accepted later that day. "We were over the moon. We had our deposit saved already, so everything from that aspect was very straightforward."
After having their offer accepted in October, Jess and Rick received the keys to their property in February.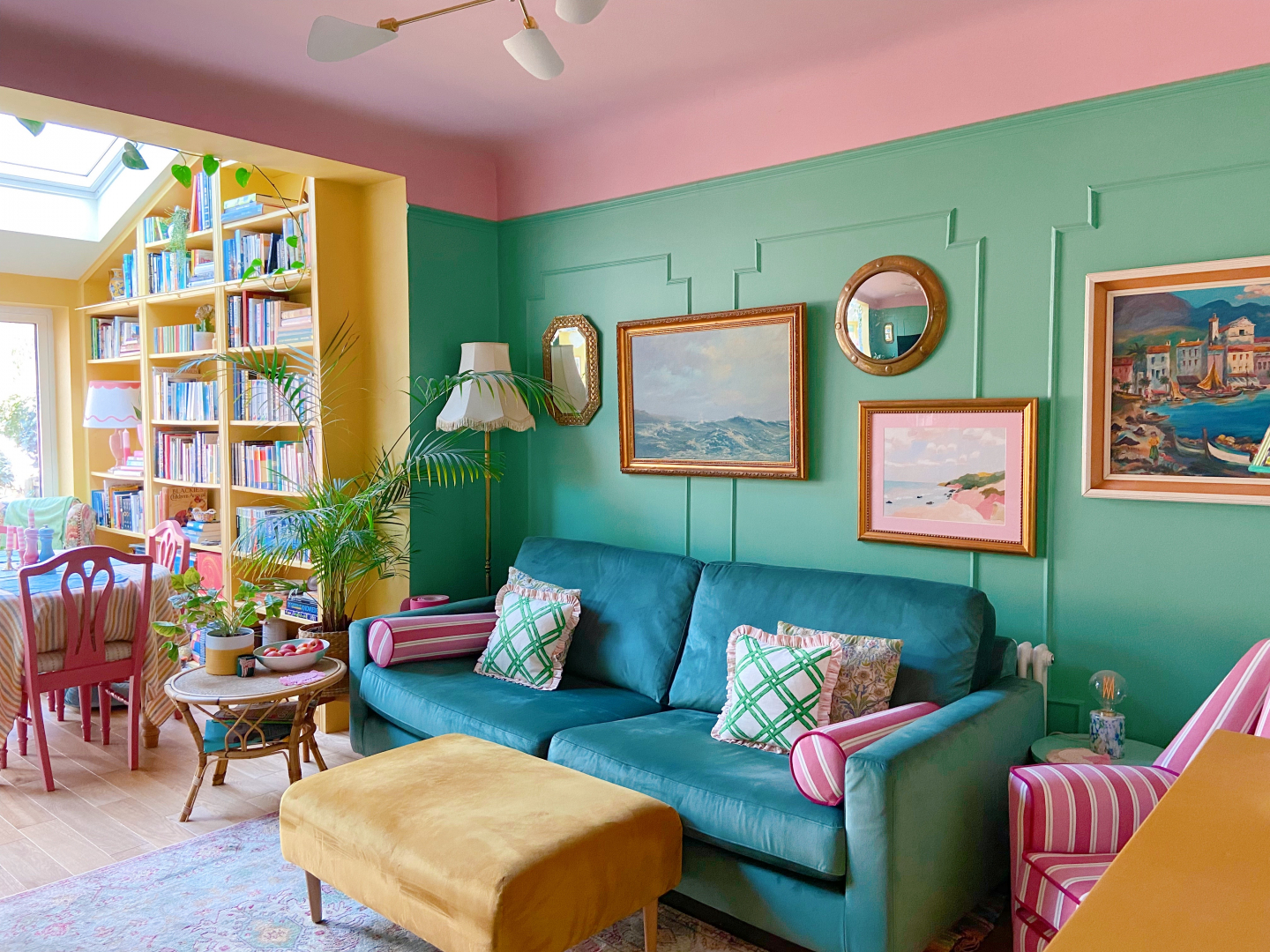 "The day we picked up the keys was such an amazing feeling. We had waited five months for the moment, and we both went straight to the house after work. We wandered around and couldn't believe it was finally ours."
The renovation came next, which involved a lot more work than Jess and Rick initially anticipated.
From the outside, Jess and Rick's home is a charming traditional period house, with big, bay-fronted windows and a curved façade. But this home is aptly known to more than 100,000 devoted Instagram followers as The House That Colour Built, and inside, every wall, floor, ceiling and surface has been decorated in a palette of candy-coloured pastels and jewel-coloured tones.
"My main tip for anyone looking for a house renovation project would be to save even more money than you think you'll need; renovations can bring up unexpected costs, and if you can't do everything yourself it's good to have extra budget to fall back on. For example, the whole house needed rewiring which we hadn't realised, so that was a big expense."
The pair drafted in a builder for their extension and an electrician for the rewire, but were able to save by undertaking most of the work themselves, and having their friend help with plastering.
"We basically took the whole house back to its bare bones and started from scratch. I loved the high ceilings, which are curved in our two downstairs rooms, so I was adamant that we kept the feature, even though it made it harder to replaster. In my opinion, original features are to be treasured."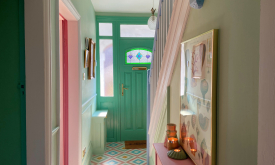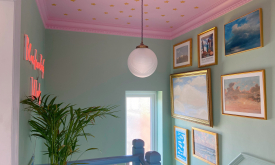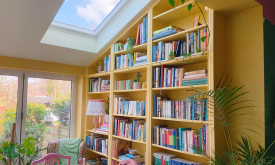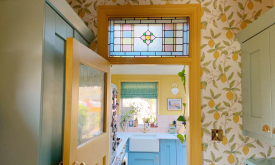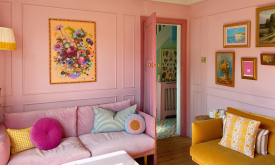 Jess is also a huge advocate of shopping for pre-loved items, and most of their furniture has either come from a charity shop, an antique shop, or found second-hand online.
"I love finding something unique and a bargain. Even better if there's an opportunity to upcycle."
"Next on the project list is the garden, as we're hoping to build a seating area with a pizza oven this summer, and a braai (an open outdoor grill). I'm half South African so this is a must," she says.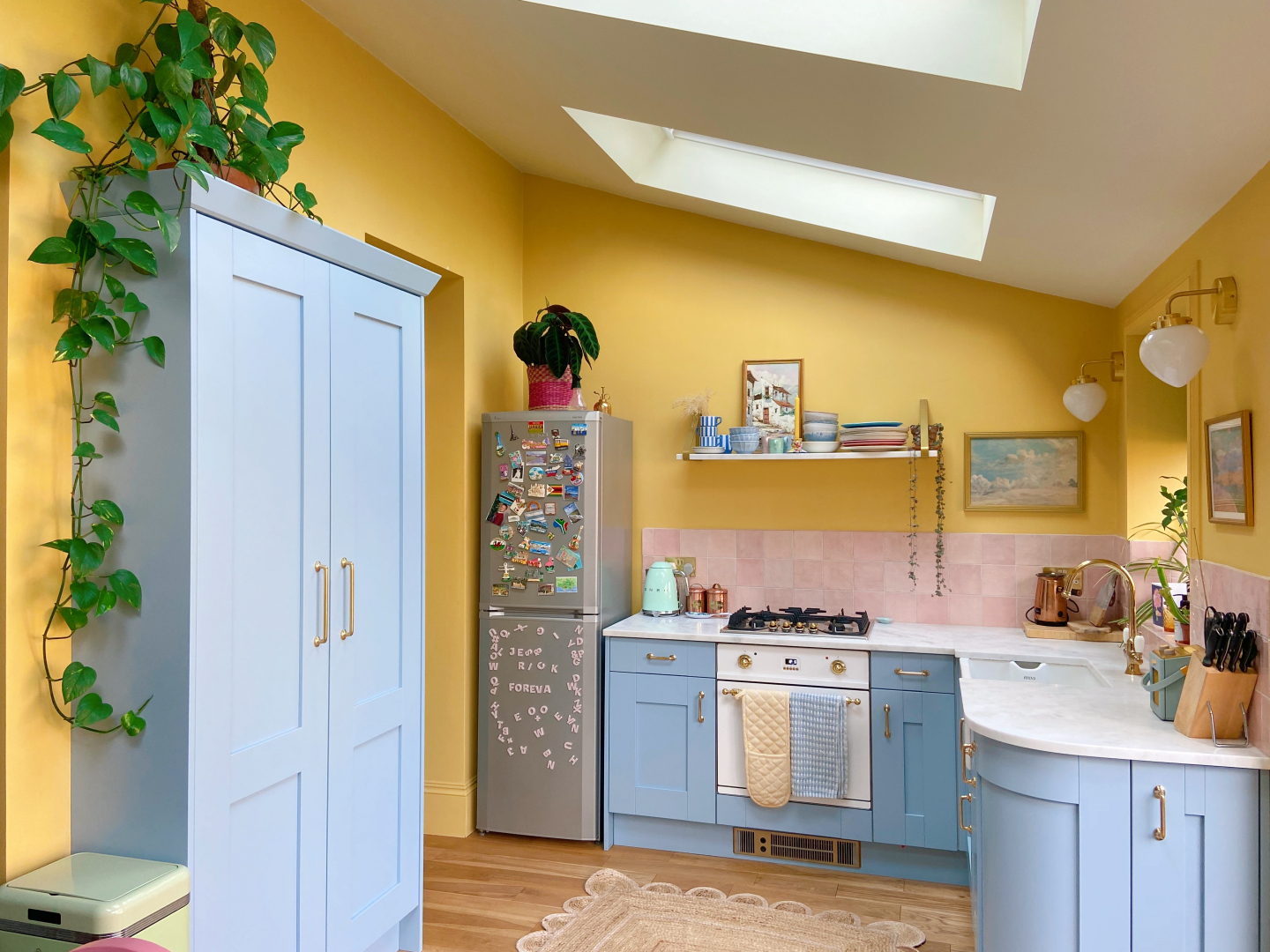 It took around 15 months before they could move into the house, as they decided to renovate every room simultaneously: something they wouldn't do if they ever renovated again.
"The renovation was a lot of hard work: it took up every evening and weekend for over a year, but we would do it all over again as we have ended up with a home that is a true reflection of us. I had to compromise on age – our house is about 90 years old – but I can live with that."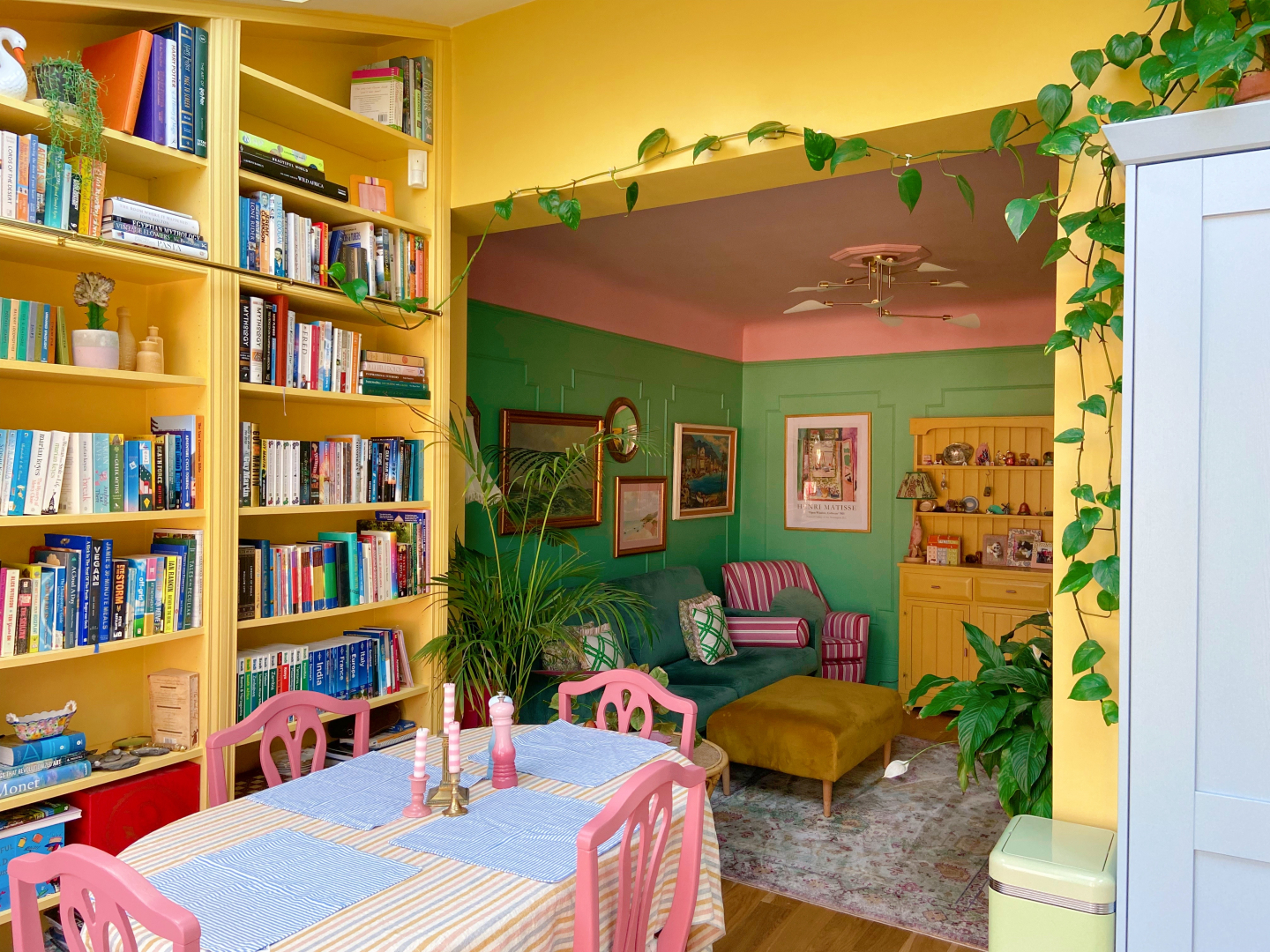 Jess and Rick have worked together to make their home their own, and don't think anyone should hold back when decorating their own space.
"We loved the house from the moment we saw it, and we knew it had huge potential, so it's been amazing to be able to bring it back to life. I don't think you should hold back when it comes to the interior of your home: it should make you happy and be a true reflection of what you love. Never be afraid to go bold!"
You can follow Jess and Rick's renovation story on Instagram at The House That Colour Built
We'd love to hear your moving story
Everyone has a moving story. Share yours with us for the chance to be featured on Rightmove. Share your story here.