Moving to my childhood dream home was our right move
Siobhan was a young child when a striking Art Deco house with high curved walls and an angular façade first caught her eye. She and her brother would often stop and stare at the home that stood out from all the other houses on the street. She would point out its imposing design and central tower to her mum as they drove past in the car.
She remembers wondering what fabulous people must live there, and dreaming about what it must look like inside.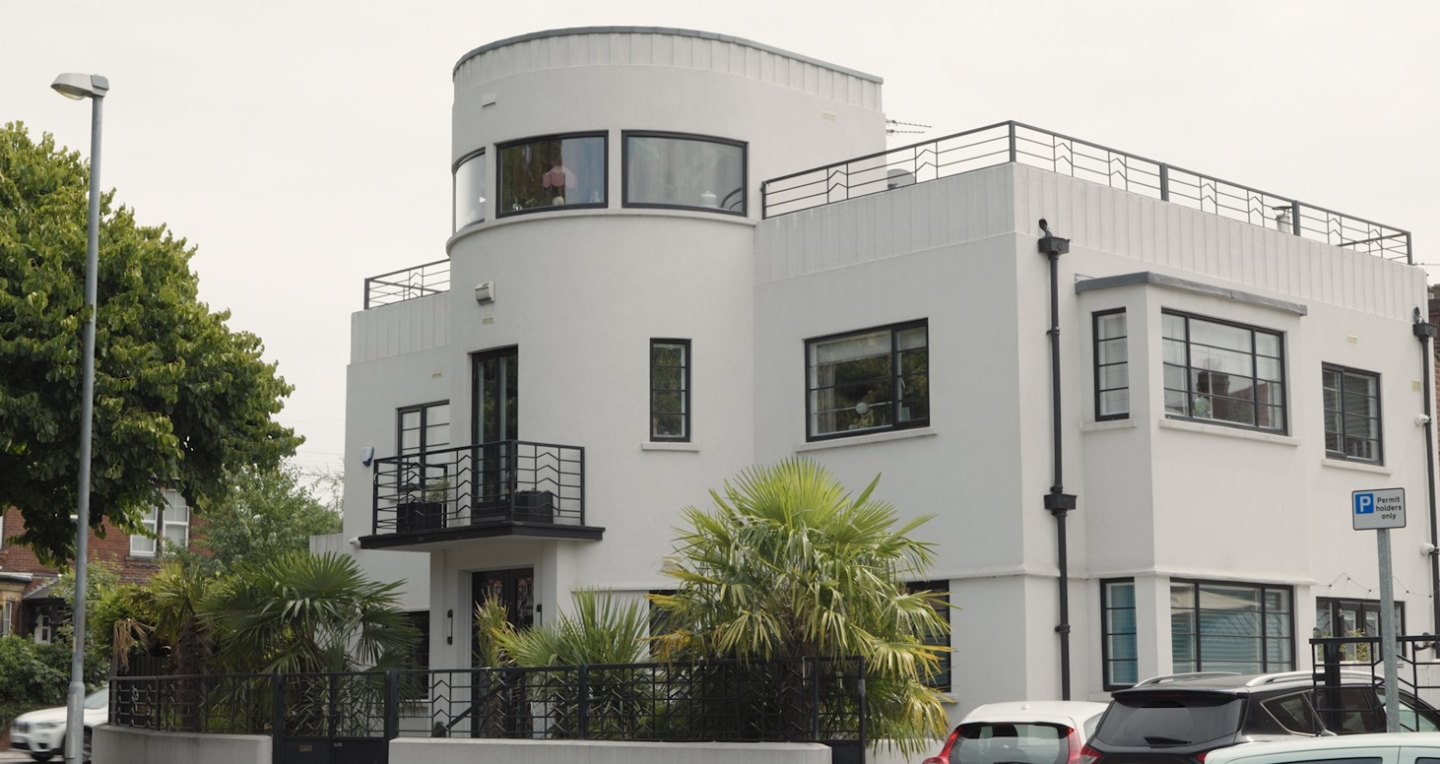 But she never could have imagined that this captivating home would one day become her own.
Siobhan, a digital creator and presenter, loves fashion and interiors, and joyfully fills her own home with bold patterns and bright colours. She wowed the judges with her bold maximalist style when she appeared in BBC2's Interior Design Masters, and has now turned her hand to presenting.
Siobhan and her husband Nick, a solicitor, and Benji the cat – their beloved fluffy Ragdoll – had been living in a two-bedroom semi-detached house for a decade. They knew they had outgrown the space, and were ready to find a forever home that could fit their ever-growing collection of furniture and interior treasures.
"I bought the house on my own initially, and after a few years going out with Nick, he rented out his flat and moved in with me. After a while, we decided that we wanted more room, and to buy somewhere together, so we embarked on our search for our dream home," says Siobhan.
When they started their search, it was clear they wanted different things. Siobhan longed for a grand Victorian house, but Nick wanted to find a modern flat.
Siobhan would send a home to Nick, he'd say no. Nick would send one back, Siobhan would rule it out. After a long search, which lasted for "about a year, on and off", they still couldn't agree on anything.
Finding their dream home on Rightmove
Siobhan spent hours poring over homes for sale on Rightmove, looking for 'the one'. And much like her unique furniture finds, she loved the challenge.
But it wasn't until she decided to widen the search location she had saved on Rightmove that she stumbled upon something special: that captivating Art Deco house she used to gaze at as a child.
"I was literally spending hours and hours on Rightmove every day, and every night, looking for the perfect property. And one day I found it – and it was Chatelaine! This was the house I had loved for years and years."
Siobhan didn't miss a beat. She immediately sent the property listing to Nick. He responded instantly and said: "I love it. Let's buy it."
"The very first time I came to look at Chatelaine with Nick, the lady who owned the house opened the door and I stepped into the hallway and just began to cry. I had such an emotional connection with the house from the very start, and it just made me feel so overwhelmed. I knew that I had to buy this property because I was just thinking of all the amazing things that I could do with it. But it also just felt right", says Siobhan.
They put their offer in right away, and it was accepted. Siobhan pored over the floorplans of the four-bedroom home, mentally decorating every room in the house. She was ready to move in. But there were a few other things to do first, and there was a lot to organise. When they started their search for their new home, Siobhan and Nick broke down their moving plans into different stages, or 'mini moves'.
"With any move, there're lots of steps to take, and as with most projects I undertake, I always start with a list! I wrote down all the steps, and of course the satisfaction of ticking things off is always good motivation," she says.
She found that breaking the process down into bitesize chunks, or mini moves, made her feel in control of the process. This way she could keep on top of the tasks on the to-do list.
Her list included things like getting their property valued and getting it ready to sell, arranging a survey and mortgage quotes, and finding a solicitor. They also set a completion date and leading up to it they started to get organised for the move, by organising and clearing out their current home.
A home to put their own stamp on
As they prepared to move, they learnt more about their new home. Originally planned and built by a doctor, the first owner also used the home as her GP practice. And its standout design quickly became the talk of town.
Later, the property was used as a hair salon, but soon after, it fell into disrepair. It was almost pulled down by the local council, but thankfully a buyer stepped in and meticulously restored the home and some of its period features.
When Siobhan and Nick eventually got the keys, she couldn't wait to start putting her own stamp on her dream home. Siobhan loves filling her home with knick-knacks and collectables, and now Chatelaine is brimming with colour and pattern, with artwork on every wall.
"I love the architecture of the house. It's a type of Art Deco that's called Streamline Moderne, and a lot of the houses built in that style look like the front of a ship, ours included. It's such an impressive building full of curves inside and out. I love the fact that the house has always been owned by strong independent, business-owning women, a GP in the 1930s, a hair salon owner in the 1950s, and now me! I'm hoping to continue the legacy", says Siobhan.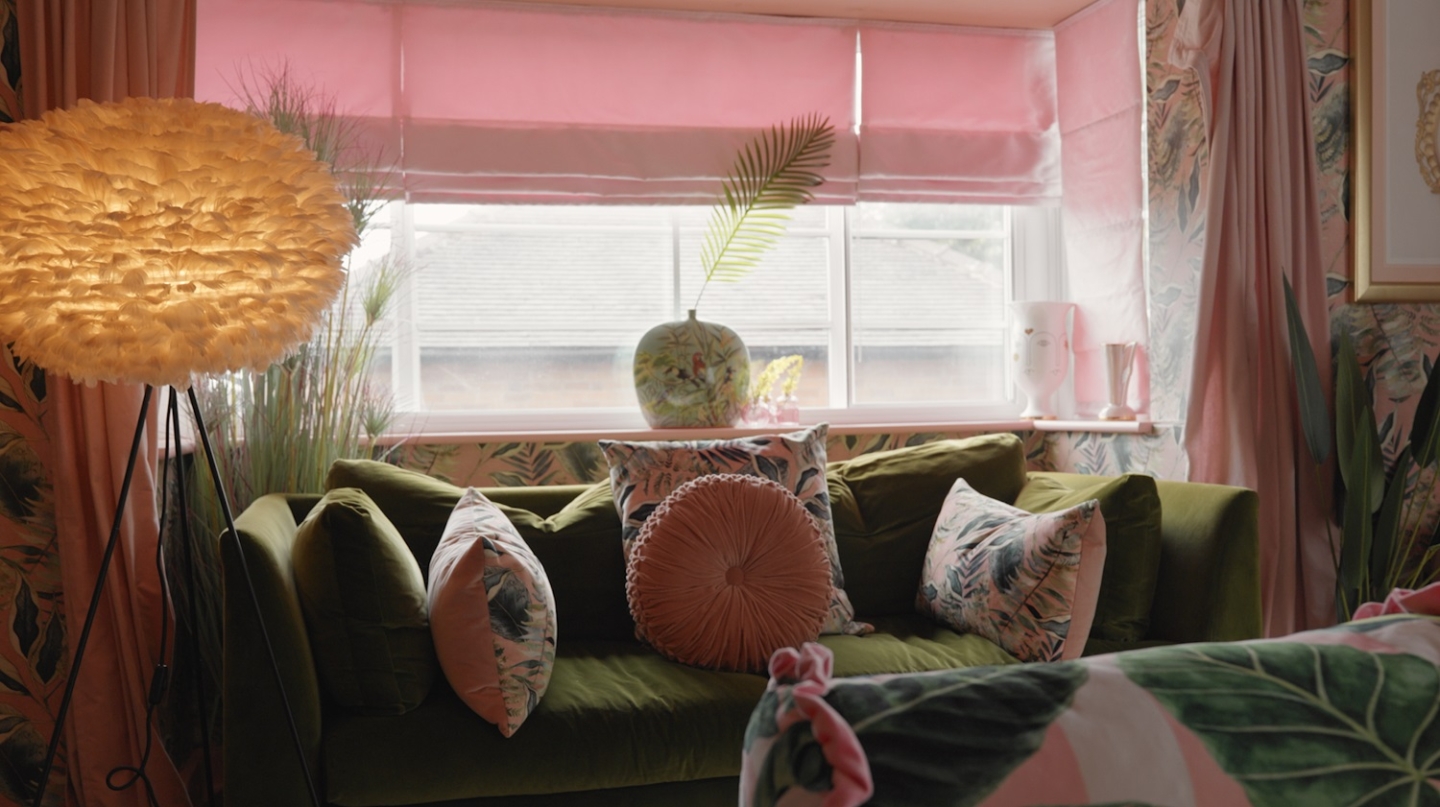 Siobhan hasn't stopped tinkering with the home's interior, and proudly won't. Her most recent addition is one of the Instagram-famous rose pink marshmallow chairs from London celebrity hotspot, sketch.
"Our home is everything. It's a place that I love being in, hanging out in, and it brings a smile to my face every single day. I feel like this is the house we were always meant to live in. It just feels right. It's perfect, and we are blissfully happy here. It's changed our lives and even kick-started my career in interior design."
So, what advice would Siobhan give to others thinking of making a move?
"My advice is to have a plan, and a list! Try having a clear-out before you move as you don't want to be moving things you don't want into your new property. I sold lots of things before we moved and donated lots to charity too."
"If you have unfinished decorating jobs, or rooms that look a little tired, give them a freshen up if you have time. A little paint can really freshen things up!"
"And break the move down into mini moves, so it doesn't become too overwhelming. My biggest advice is to go with your heart. If you get that excited feeling when you view the perfect property and can imagine yourself living there, then it could be the home of your dreams!"
Take a closer look at Siobhan and Nick's home here…
View this post on Instagram
To help others see how they could break down their home move, Siobhan partnered with Rightmove to share her story. Take a closer look at our helpful guides and tools to help you take the first step towards your home move.