Finding a way to start a family in London was our right move
"Sometimes you'll be at the kitchen table and a face will appear at the window, peering in. They get such a shock when they see me. They don't think anybody lives here," says florist and business owner Florence Kennedy, explaining about the home she shares with husband James, daughter Clover and dog Huxley.
"But then again, I suppose there aren't many old dairies knocking about in London are there!"
Originally built in the 19th Century for the cows of Hackney Marshes, the converted dairy now sits between rows of Victorian houses on a peaceful, tree lined street in the heart of Clapton, East London. An imposing 3,500 square foot of concrete, glass and steel – "It's not what you'd expect to find walking round the corner," says James.
As long-time Hackney residents, the couple have spent years wandering past the building, (peeking through its front window themselves), so couldn't believe their luck when they found out the current tenants wanted to leave their tenancy. "We had to see if we could make it work," says James, "we don't want to be the kind of people who pass up an opportunity like this."
"We'll look back on this venture as a big split in our lives. The time before the dairy and Clover and our lives afterwards." Indeed, not only did the pair decide to rent the entire live-work space, agreeing to stump up "a hefty amount of rent" each month, but Florence was heavily pregnant with baby Clover at the time. "We don't do things by halves!" she says, laughing.
Similar properties currently on the market:
The pair may not have taken on something quite this big before, but they're no strangers to tackling a project head on and making it work. "I suppose our lifestyles and our work have always dictated where we've lived," says James, who started his bicycle building company a few years ago. They've lived in studio flats, small live-work units and basement flats, "some had crazy living set ups, like a bed up a ladder," remembers James. "But you make it work. We like living in places with character".
With this in mind, it comes as no surprise that James was ready to dive straight in to taking on the dairy as a third business. Florence was less keen at first: "I had my own business and a baby on the way, so I couldn't fit anything else in my head. But James agreed to do it all, sort out paying the rent by hiring out the spaces and pretty much did up the whole place himself. He's been amazing."
"Florence is the dairy's art director," says James, referring to the copper pipes, the pendant lamps, beautiful arrangements of foliage and flowers and carefully selected pieces of furniture that pepper the living areas.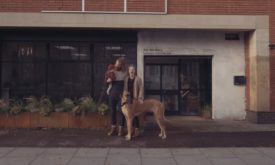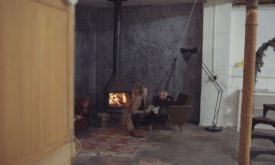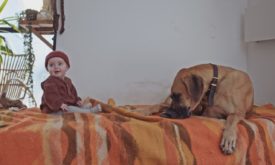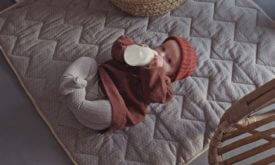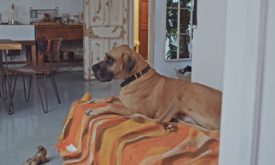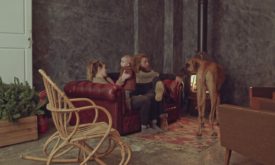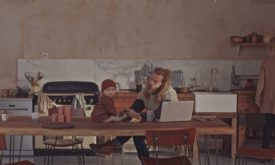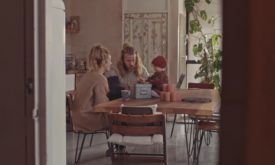 "No I'm just bossy!" laughs Florence. "James really has worked incredibly hard on the place." Indeed, the dairy was a little worse for wear when the pair moved in. A space this large needs constant care and attention and James is its caretaker.
"If you want to talk DIY, I could go on for hours," he chuckles. "I've always got something on the go. I feel like even if it's just a lightbulb that needs changing, I want to always be improving it. Make it more than just habitable, but really lovely to live in."
Less than a year since the family moved in, his dream has been realised. It's become their first family home, a hive of activity for filming and photoshoots, and a beautiful, characterful, warm and inviting home for Clover to grow up in. "I feel very lucky, it's really special," says Florence, turning to James.
"This is us for the next three years or so, and I feel pretty delighted about that."
To find out more about James and Florence's Clapton home, read our article here.