Staying in my favourite postcode was my right move
Chris, a copywriter, was a long-time renter in south east London and loved the area's buzz and strong sense of community – as well as being a stone's throw from a Dulwich Hamlet football match and some of his favourite pubs. He'd been flat-sharing with a friend in the area since 2018, but when their tenancy came to an end and his flatmate relocated for work, he began his search for another rental home.
"I was fortunate enough to use the period after my tenancy ended to go back to stay with my parents for a while. It really helped that I was working from home at the time, which meant I wasn't having to spend money commuting into London, either. So I was able to save the money I'd have been spending on rent and travel to build up some savings," says Chris.
And after a few months of living with his parents, Chris then started his search for a home to rent, anticipating putting his savings towards a deposit.
"I was keen to move back to the same area as soon as I could, as I love this bit of London," says Chris. "My friends all seem to be concentrated in this postcode, and the area's become really familiar over the time I've lived here. But as soon as I started looking I found things had changed since I found my rented flat years prior, and it was more difficult to find a home that met my needs and was within my budget."
So that's when Chris decided to look at other options, including doing a bit of research into whether he'd be in a position to buy his own home. "Home ownership has always been in the back of my mind and something I'd loved to have done, but I've never really thought it was going to be a realistic option. Which I think is the case for lots of London renters like me.
"And it's only when I started looking into it more thoroughly that I started to realise that I did have options when it came to ownership, even with my relatively small deposit," he adds.
Chris's step-by-step approach
Chris started off by sitting down and working out what he'd be comfortable putting towards a mortgage each month, alongside his other outgoings. He then used a mortgage calculator to give him an idea of what he might be able to borrow. He looked at the monthly payment amount and used the property price that matched up with this monthly amount as a starting point for his budget.
"I went into the process feeling a little daunted, mostly because I didn't really know what I was doing! As a first step, I contacted a mortgage broker who'd been recommended by a friend who'd recently bought their own home too. I was upfront with him, making it clear that I didn't know the first thing about mortgages or home-buying in general – the extent of my knowledge was a few chats with my Dad!" laughs Chris. "He was incredibly helpful and didn't make any assumptions about what I already knew, and talked me through the different types of mortgages and what the best options for me could be," he adds.
You can read more about mortgage affordability and how lenders calculate this here.
With his budget sorted and Mortgage in Principle in place, he felt in a position to start his property search. But Chris soon realised that most of the homes in Camberwell were outside his budget: "I checked recent sold prices in the area and found that even for the one bed flat I was looking for, the average house price in Camberwell was much higher than I'd be able to afford. So I started to think about other options, including looking at surrounding areas, where getting to SE5 was relatively easy, but property prices were a lower on average. I used draw a search to define my chosen areas – mostly around good bus routes and train stations."
Even though Chris was widening his search to areas that were closer in line with his budget, he still regularly checked the homes for sale in Camberwell listings. "It was more out of curiosity, as I'd already readjusted my expectations in terms of where I was going to be able to afford. But I was doing my regular browse of the area – ordered by lowest price – when I saw a listing for a shared ownership flat in a development right where I wanted to be. This flat was a bit of a needle in a haystack in terms of affordability for me, as I hadn't seen anything else in the area I'd have been able to buy. But it just goes to show that by persevering and looking at other possible options, things can crop up that you really weren't expecting."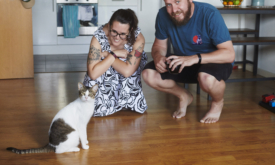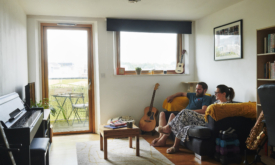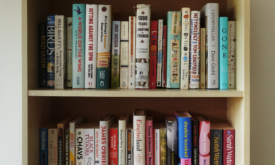 Chris double checked he was eligible for the shared ownership scheme, then made an application through the shared ownership website.
"After going on a viewing and loving the flat, I went ahead with the admin that goes with buying a shared ownership property. It felt a bit strange to be buying the only home I'd viewed, after hearing of friends going on lots of viewings before finding the one! And especially as I'd pretty much written off being able to move back to the area."
Because he was buying the property chain free, it was a fairly smooth process, and once the conveyancing process had taken place, he picked up the keys to his new home.
Chris says: "I own 45% of the property and pay a mortgage on that portion. I was initially guided towards a fixed-rate deal by my mortgage broker, but as the conveyancing progressed and the mortgage market changed, he then recommended I opt for a tracker mortgage. This was due to where interest rates were at that time, and where they were predicted to head in the future. Then I pay rent on the remaining 55%." The rent is paid to the housing association that own the development, and while the rent can be reviewed, there is a clause in the contract that means increases are restricted to be in line with the Retail Prices Index, plus 0.5%.
And if he wants to, Chris can buy more of the property from the housing association in future: a process known as staircasing. "It's great to know that if I'm in a position to in the future, I have the option of increasing the percentage I own."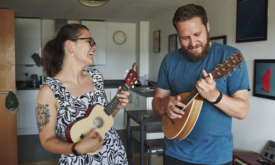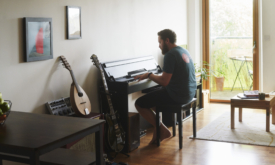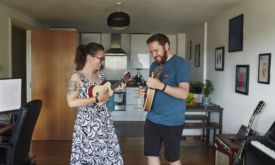 All moved in, and making the most of the area
Chris has now moved in and lives with his partner, Tash, a communications manager for a publishing house, and their cat, Jeannie. The couple are big music fans, and the flat is decked out with musical instruments and album-cover artwork, as well as a work-from-home set up in their living room.
"The balcony has also been a huge bonus – when I first started looking to buy, I assumed I wouldn't be able to afford any outside space, so it hadn't been on my wish-list. But this is probably my favourite thing about the flat now. It gets the sunshine in the morning – sitting out here with a coffee and a book is bliss. And the London buzz I can hear going on down below us is a reminder of why I love this area, and why I was so keen to move back."
"Probably the best thing is that I've been able to get back to the place that feels like home for me, be close to my friends, and enjoy my favourite pocket of London. And it's now a stroll home from the pub, rather than the bus I was all geared up for, which is great!" he laughs.
Does Chris have any advice for anyone looking to buy their first home soon?
"I'd say to go into the process with an open mind, and don't be worried about having to learn things as you go. I think I had a preconception that everyone my age knew lots about the moving process and mortgages, but I really don't think this is the case. I was able to get the information and help I needed to make me realise I could move. And that I wasn't destined to be at my parents' forever!" jokes Chris.
"Everything I love about London is still right on my doorstep. I'm really pleased I persevered with looking for a home that would work for me, even if it didn't seem like things were going to be doable at first. But I got there in the end!"
Please note: Rightmove is not authorised to give financial advice; the information and opinions provided in these articles are not intended to be financial advice and should not be relied upon when making financial decisions. Please seek advice from a specialist mortgage provider. 
Photography by Joe Woodhouse