How to live by the sea without leaving London
Hannes and his partner John moved to the UK from Johannesburg, South Africa in 2001, settling in South West London where they have rented a two bedroom flat ever since.
Despite being happy here, something was always missing for them and they dreamed of a place where they could do what they love most on weekends – going on cycling adventures – and somewhere with a real sense of community. In the back of their minds, they needed something more.
With both working in Central London, and not wanting longer commutes, leaving London completely never felt like an option. However, despite years of saving, they just couldn't justify buying a property in London that, due to the average property price, they knew just wouldn't tick all their boxes.
Then one Easter Bank holiday, they chose to go on a day trip to Hastings; a traditional seaside town that they were visiting for the first time. On arrival at the station, it looked like any other British seaside town to them, but as they started walking around they discovered Hastings Old Town. With oodles of character and crooked houses, some dating back to the 15th century, they became captivated by the area. Walking up the West Hill, they stumbled across an old Victorian School building, which had been converted into apartments, and as luck would have it, had recently gone on the market. The developer, who was at the property at the time, patiently showed Hannes and John around all the empty apartments.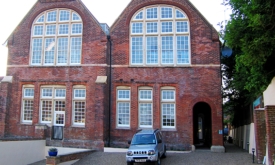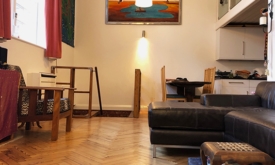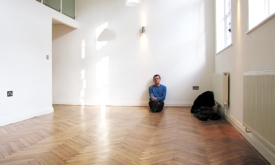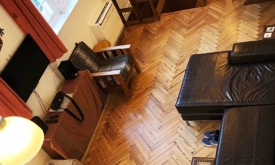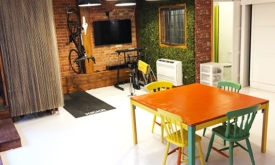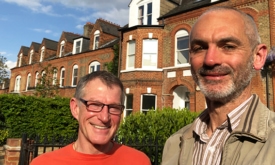 The place was full of character, even including some writing scratched out on one of the old sash windows, which have all been replaced since taking ownership of the property. They fell in love with the apartment created from the old Geography Class and the Principal's office. It had ridiculously high ceilings and mezzanine floors; it immediately just felt right. It was love at first sight. An hour before viewing this apartment they'd never even considered buying a property outside of London and now, sitting in the first pub they came across, they were seriously considering buying a property here.
So many questions were going through their minds though and they needed to be 100% sure about everything – 'Are we doing the right thing?', 'Can we afford both a rental and a mortgage?' – but they instinctively felt that they could find their "outside of London" happy in Hastings. They loved the character, size, price and even the location of the property.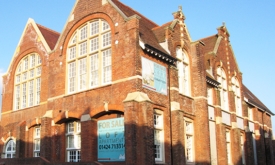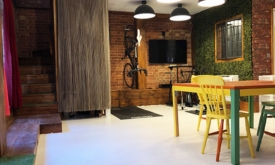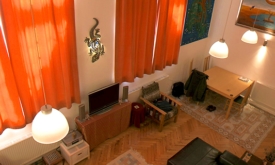 After some deliberation over a pint, at what eventually would become their favourite local pub in the Old Town, they decided that this was the property for them. Confident they could get the mortgage they needed, they went straight to the bank and withdrew £1,000 to put down as a deposit to the developer. Luckily for them, the property was a brand-new redevelopment, so it was now just a case of sorting the mortgage and moving in!
A few years after moving in, the ground floor directly below their flat became available and they were presented with the option to buy it. Knowing that Hannes' dream had always been to have his very own mancave, after much discussion John agreed he could take it on as a new project and turn his dream into a reality.  Hannes decided to tackle this project, doing everything himself except the major works which a builder helped with. He decided to use recycled or repurposed materials as far as he could, with all carpentry and staircases made from old scaffolding board and bits and bobs recovered from the company he was working for at the time.
Hannes and John continue to have the best of both worlds. They enjoy the hustle and bustle of London during the week and tranquility of Hastings on the weekend. Every visit to Hastings guarantees them beautiful beach walks and sea views, friendly neighbours, long cycles, country pub drinks and a diverse community. Hastings is a very special place for them because of the wonderful sense of community. "We greet our neighbours and they greet us back", says Hannes. Both Hannes and John feel that this is the place where they will retire. For Hannes and John, renting in London and owning in Hastings suits their lifestyle perfectly.
If you are feeling inspired to make your right move, take a look at some of the buyers' advice.
We'd love to share your special moving stories on Rightmove.
Submit your story for the chance to win an Amazon voucher!