We needed more space for my business to grow
Reader's note: This article was first published on 17th March 2020.
When Michelle and Simon Last moved into their previous home in Winslow, Buckinghamshire, they didn't plan on staying there for too long. Twenty-one years later, and now with two grown-up children (Dominic, 21 and Amy, 19), the couple found themselves still in the same house!
"I guess we stayed put as it was a such great place to bring up a family," Michelle explains. "It's a small market town outside of Buckingham and Milton Keynes which has lots of good amenities and everything we needed as a family, and once we got on the conveyor belt of schooling it was a done deal that we'd stay put." However, things changed as the kids got older. When Dominic went travelling and Amy went off to university Michelle and Simon realised they didn't really use any of the local amenities any more. That's when thoughts started to creep in about the possibility of moving.
"Our house was a relatively small four-bedroom house that had served us well over the years, although sharing a bathroom with the kids during their teenage years proved interesting, but when my paper-crafting business and work as an Independent Stampin' Up! Demonstrator began to flourish I realised I could do with some dedicated work space so we decided to add an extension which the whole family could benefit from." However, although the extension meant they gained a family room and an office, the office was just off the family room and on the other side of the wall to the kitchen and Michelle ultimately found it distracting working in the hub of the home.
Similar properties on the market:
"That's when we started to allow ourselves to really think about moving," she explains. "We started to imagine what kind of house we could have – it would be rural with a big garden, and it would have room for my business to grow too."
With this dream property in mind the couple kept a close eye on Rightmove using the Draw-A-Search tool to define their search area and setting up instant property alerts, but there would always be a reason that the houses they considered weren't quite right… until Simon saw a house in Thornton, 15 minutes away from where they lived, and said 'what about this one?'. Initially Michelle wasn't convinced because the bedrooms were in the roof space with pitched ceilings and she was concerned that it would prove to be too dark and gloomy for her taste, but when Simon said he was going to have a look anyway, just to 'rule it out', Michelle decided to join him.
What they found themselves looking at was a 5-bedroom house that had originally been an old coach house which had been converted in 2000 using the original stone.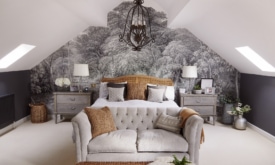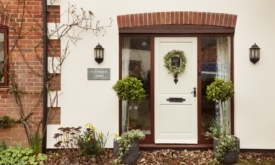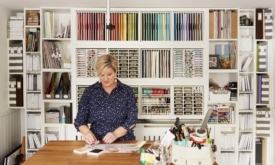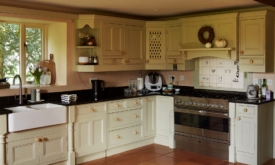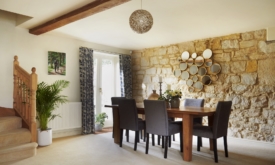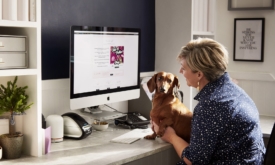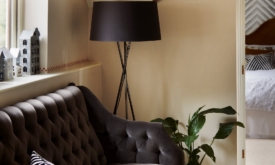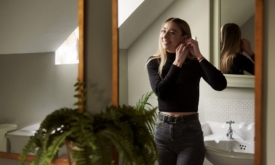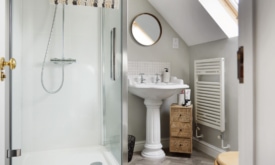 "On first viewing, fundamentally everything was ticking the boxes." Michelle remembers. "There was a lounge, a very big dining area and really characterful things about the house – wonderful big, old walls with really deep window sills – but despite its original heritage the interiors felt new and modern. It didn't have damp problems, or anything else often associated with period properties."
The icing on the cake was an additional separate lounge area at the other end of the house that was light and bright and would work perfectly as an office space for Michelle because it was away from the other main living areas. Even the upstairs accommodation, which Michelle originally had reservations about, proved to be a winner – as well as four bedrooms, including a master with en suite, there was a separate guest room with en suite which would be perfect when friends or family came to stay for weekends.
"A separate guest suite was a huge bonus," says Michelle, "a dream that we'd never really allowed ourselves – especially after sharing one bathroom with two teenage kids for years!" The large garden was also up to scratch and surrounded by the beautiful grounds of the neighbouring girls' boarding school. "We immediately thought, 'can we afford somewhere like this?', but because we'd been in our original house for so long, when we did our sums we realised that, yes, we could!  Because we'd waited so long to make the move, our house price had gone up enough to allow us to make that jump."
Although this new house seemed to tick a lot of boxes, it wasn't necessarily love at first sight for Michelle and Simon.
"We both came away and thought 'hmm, not sure'," remembers Michelle. But it did turn out to be a grower, and over the next few days the couple realised they couldn't stop thinking about it. Any doubts they had about the place were soon outweighed by the positives, so they decided to put in an offer which was provisionally accepted. However, as they hadn't sold their house at this point, the sellers didn't want to take the house off the market and explained that if another offer came in from people who were ready to move they'd let them know – and that's exactly what happened.
"It's funny isn't it," says Michelle, "when there's a chance that you can't have something, that's when you realise that you really, really want it!! We were gutted, absolutely gutted. We tried to take it graciously and I tried to focus on all the negative things about the house to persuade myself that I didn't want it anyway, but it didn't work!"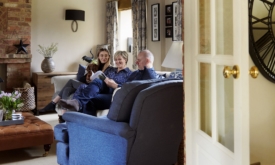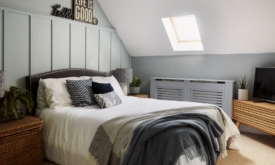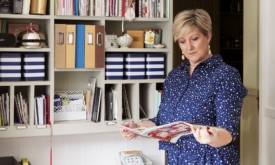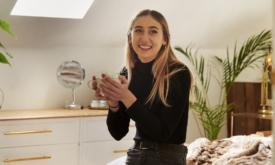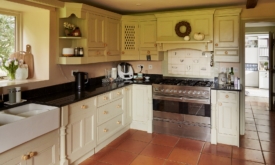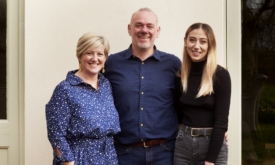 To add insult to injury, just two weeks later Michelle and Simon managed to sell their house. They continued to check on Rightmove for a new property but nothing jumped out at them enough to even view, so Michelle said to Simon, "we've got nothing to lose by putting a counter offer in. If it's meant to be, it's meant to be and we owe it to ourselves to have a go."
And so they went back to the agents with their highest possible offer, which was the full asking price. The agent said 'leave it with me', and then called back later that day and said 'I'm really sorry but they're going to stick with their original buyers.'
"We were so disappointed but said, 'oh well, never mind'. Then 15 minutes later the phone rang again and it was the estate agent again who said 'great news, they've accepted your offer!' He'd called the wrong person in the first place! He'd called us first when he should have been calling the other buyers because the sellers did want to go with our asking price offer!" The sale went through and in March 2018, in the midst of the 'Beast from the East' snow storm, they moved into their new home.
"We've loved it from the day we moved in and I think part of that is because we didn't allow ourselves to believe that we could own a house like this. We just have more of everything and my work space is perfect and has allowed my paper-crafting business to continue to thrive."
So what advice would Michelle pass on to anyone who hasn't moved for a long time but is thinking of taking the plunge?
"My advice would be to keep your eyes peeled for that special house and keep an open mind – view ones that don't necessarily tick all the boxes because they may surprise you. We hadn't made the decision that we definitely wanted to move until we saw a house that made us interested which then got the ball rolling, so it's always worth looking."
Michelle also advises that you seek advice in order to find out how much you can spend. "We didn't realise what a good position we were in! We assumed we wouldn't be able to afford anything like the house we ended up with."
Michelle's final words of wisdom: "Imagine how you'd feel if someone put an offer in before you that was accepted – if that makes you feel really disappointed then that's a good sign that this could be the house for you. If you're really serious about a house, make it happen!"
Not sure how much you could afford for your next move? Take a look at our mortgages and financing advice here.
We'd love to share your special moving stories on Rightmove.
Submit your story for the chance to win an Amazon voucher!