Selling our homes and buying together was our right move
After five and a half years of living separately, Jack and his partner Dave decided to take the plunge and sell their houses, so they could buy a place together.
Jack also wanted somewhere he could put his flair for interior design to good use. He's become renowned for his unique and colourful style, documenting his journey on his Instagram, @jackdmarch. Jack is also co-author of home interiors book, The Art of Home: Interior inspiration for every home.
"We were both bored of living out of a bag every other weekend, as we spent time between our own homes," says Jack. "And so we felt it was the right time for us to take the step and live together full time."
Growing up just outside of York on an old country estate scattered with period homes, Jack had watched his parents lovingly restore their cottage, and got his passion for property from them. But it all really started when, at 24, Jack bought his first flat in central York. Fondly dubbed 'The Pineapple' by friends, the two-bedroom flat had been a rental property before Jack bought it in 2015. He says: "It's where I 'grew up', and learnt to live on my own two feet – learning about mortgages, bills, leaks and cooking. I'm so proud of what I achieved in that first little flat."
Jack was also able to use the renovation of 'The Pineapple' as his creative outlet. The self-confessed tea enthusiast says: "Before moving there, I had a ceramic studio at home from my design degree days, but unfortunately there was nowhere for my kiln, so making teapots was replaced by decorating and Instagram."
Jack's followers took inspiration from his style-on-a-budget ideas, and a diverse mix of styles, from contemporary to vintage. And he wanted his next home to be somewhere he could do more of the same.
A wishlist that changed along the way
Jack and Dave turned to Rightmove when searching for their home, which Jack loves, and he still had alerts on from buying his first flat. So he altered his property alerts settings to match up with what he wanted from his new home.
"We started with a long list of ideal features we would love in a house, including for it to be detached, and with a garden, a garage, and a driveway… but after looking at so many houses that may have ticked those boxes, we realised that it was about how the house felt, rather than what we thought we needed," says Jack.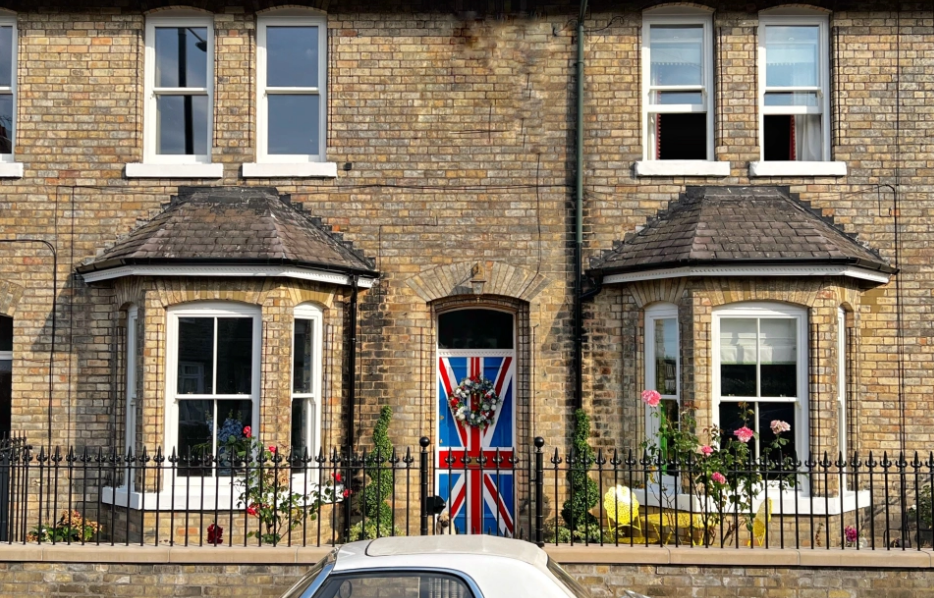 They soon booked a viewing for a period townhouse, and even though it maybe didn't tick every box on their wishlist, the house had that all-important "feeling": "It was the first house that we walked out of and Dave and I both instantly wanted to put an offer in, which is what we did," says Jack. "It sounds really cheesy, but the house just had such a good feel to it. It was empty when we viewed it, which for me was great – Dave not so much as he likes to visualise furniture in the rooms. However, I got so many ideas of how I could transform this blank space. Also being a period property, similar to what I grew up in, it felt like coming home after living in a more modern flat."
"Despite what we thought we wanted, we've actually ended up with on-street parking, a terrace, no garage, and a small courtyard. But I would never have our home any other way – we love it!" adds Jack.
Buying a home the second time around had its challenges for Jack and Dave. After falling in love with the York townhouse, they were in competition with another buyer to secure the house. Fortunately, there was high demand for homes on the housing estate where Dave lived, so it sold within hours. And having sold both their properties helped with getting their offer on the townhouse accepted. After six months of back-and-forth negotiations, they completed in December 2020, and finally got the keys to their dream home.
Jack says: "Getting the keys is a memory that will stick with me forever. It was very late on the last Friday before Christmas, everywhere was closing up, our house had gone through hours earlier and we were sat in a van with a load of our furniture, patiently waiting for the call from the seller's agent. A neighbour brought us out cups of tea while we waited – even this little gesture made us feel like we'd chosen the right neighbourhood."
Making their house a home
The house is an 1880s Victorian, double-fronted terrace, originally built for the management of York railway. On a quiet street, it's hard to imagine it's just a five-minute walk from the bustling centre of York. "We've been here almost two years now and made so many friends – we're all in and out of each other's homes for dinners, drinks and coffee. And everyone has been intrigued by our renovations," laughs Jack.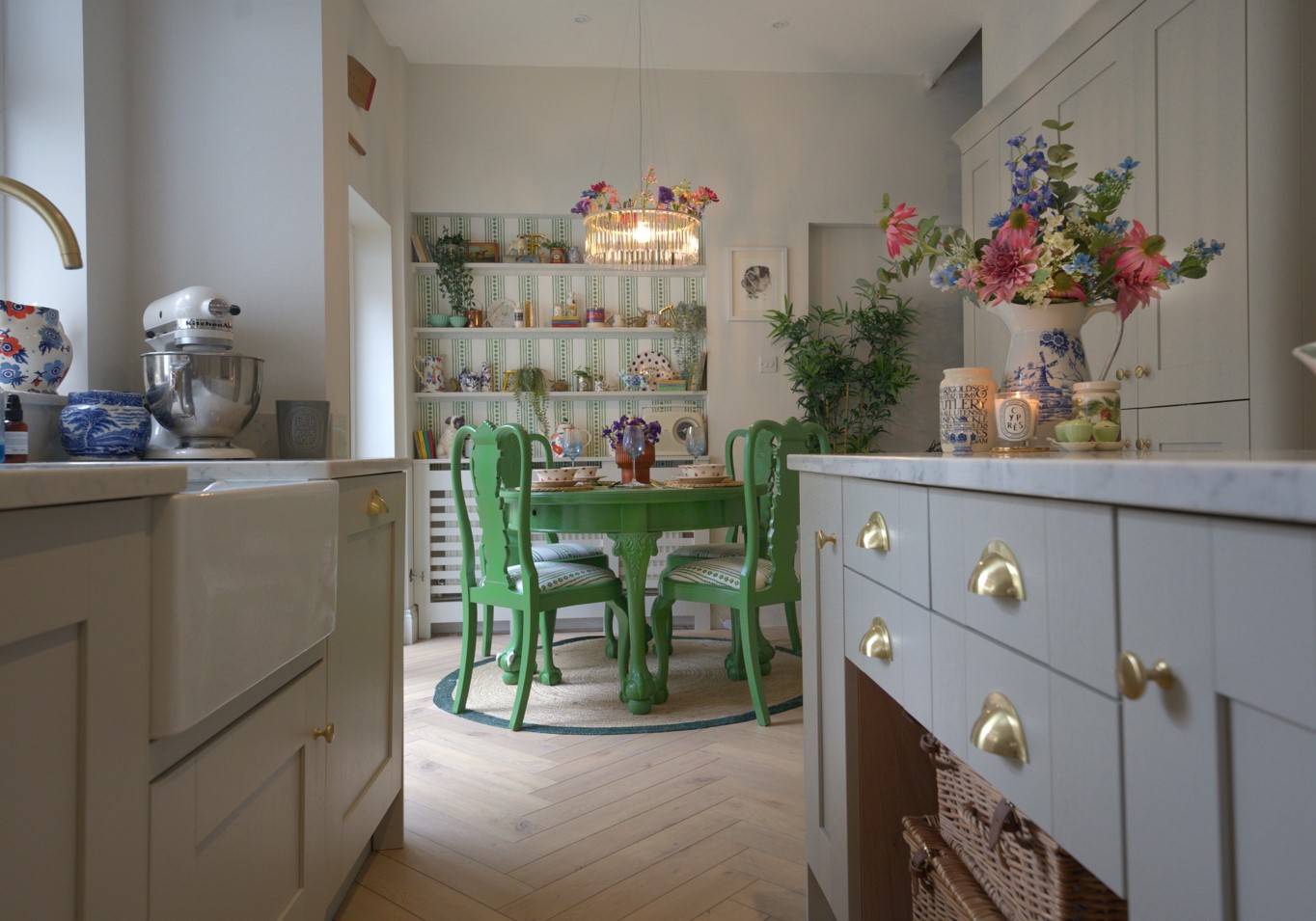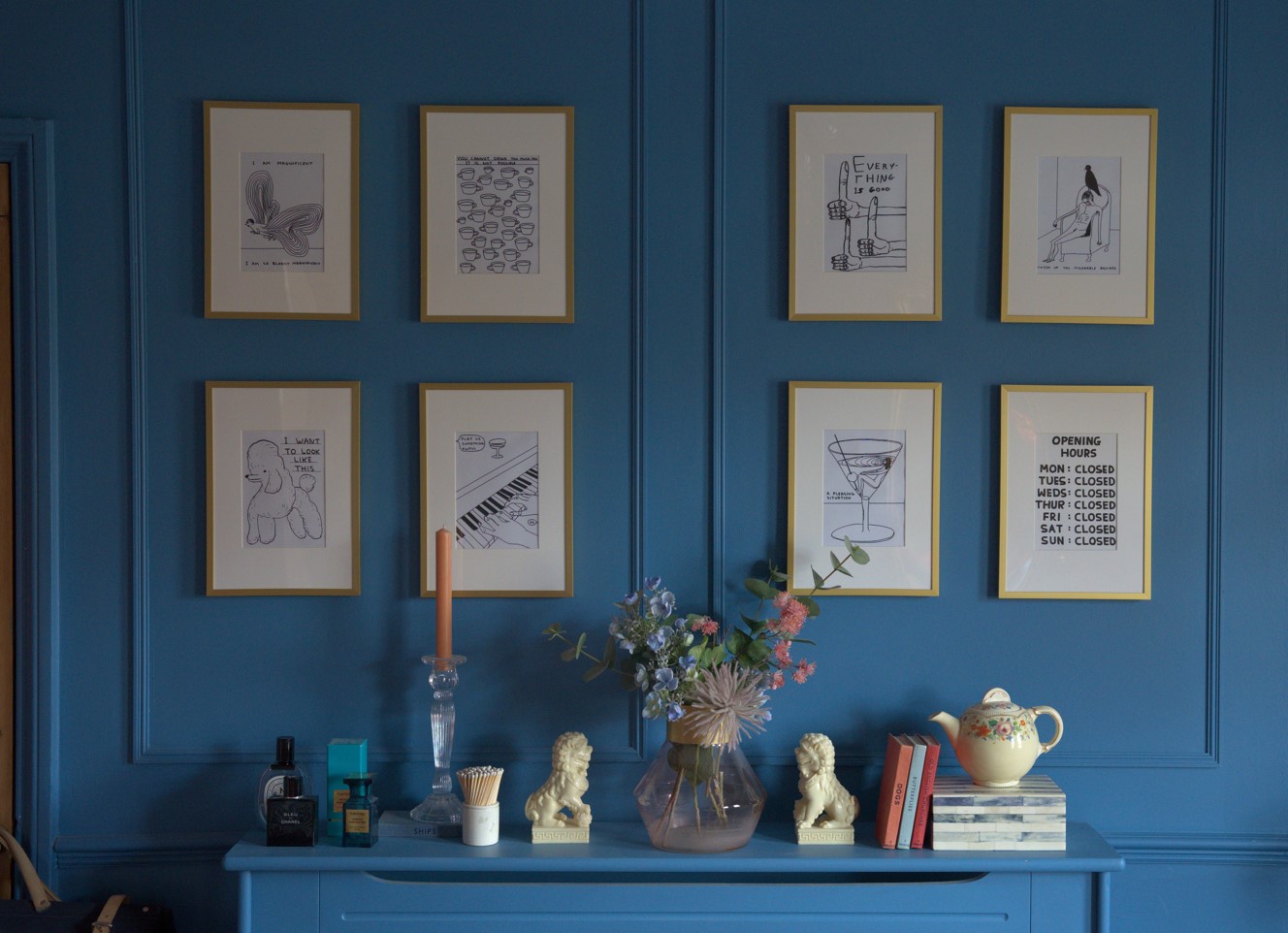 Jack's favourite thing about his home is having two bay windows. He says, "I always joke with people that whenever I look at house on Rightmove or in person, I go straight to thinking 'where are they going to put their Christmas tree?'. So for me, the first thing I did before unpacking any of the boxes when we moved in was put a tree in each bay window. I love Christmas, and I feel that our home really comes alive in the winter season."
If the Union flag painted on the front door doesn't give it away, it was important for Jack to fill their home with colour and personality. Whether it's a creative overhaul of an entire room, or a pop of colour somewhere, Jack says: "Self-expression is all about being able to show your true, genuine self. As I've gotten older, I've developed the confidence to be bold and unapologetic. A home should represent you! Don't decorate for the trends, decorate to bring yourself joy!"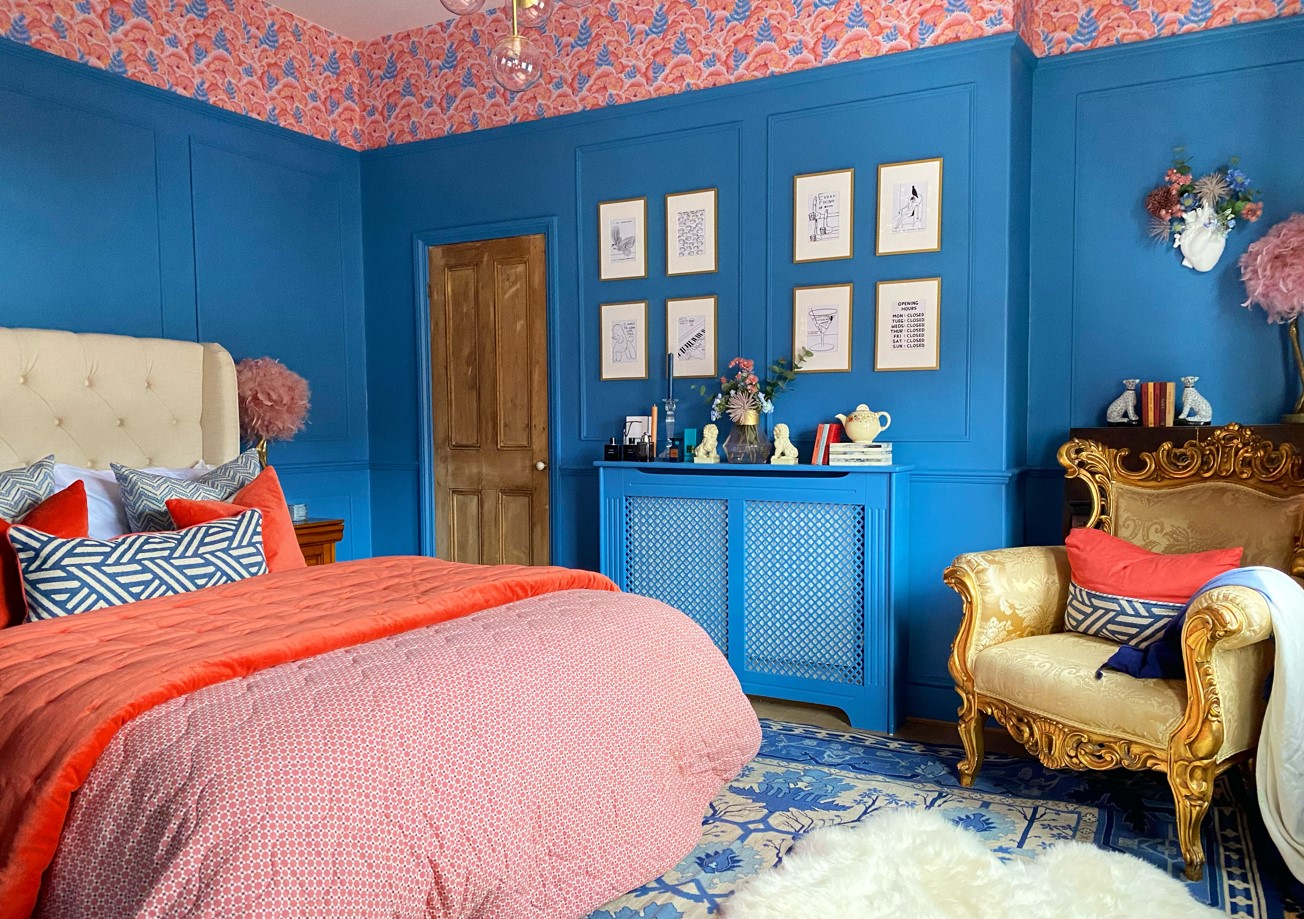 A lot of fabric swatches and wallpaper samples were reviewed when working on the renovations completed so far. One of the biggest makeovers was the living room, with the bold, nearly-black walls and fireplace being the centrepiece. Jack says: "This is our everyday, go-to space – whether it's for entertaining, a drink from the bar, or watching TV with a takeaway. It was important to get this space just right."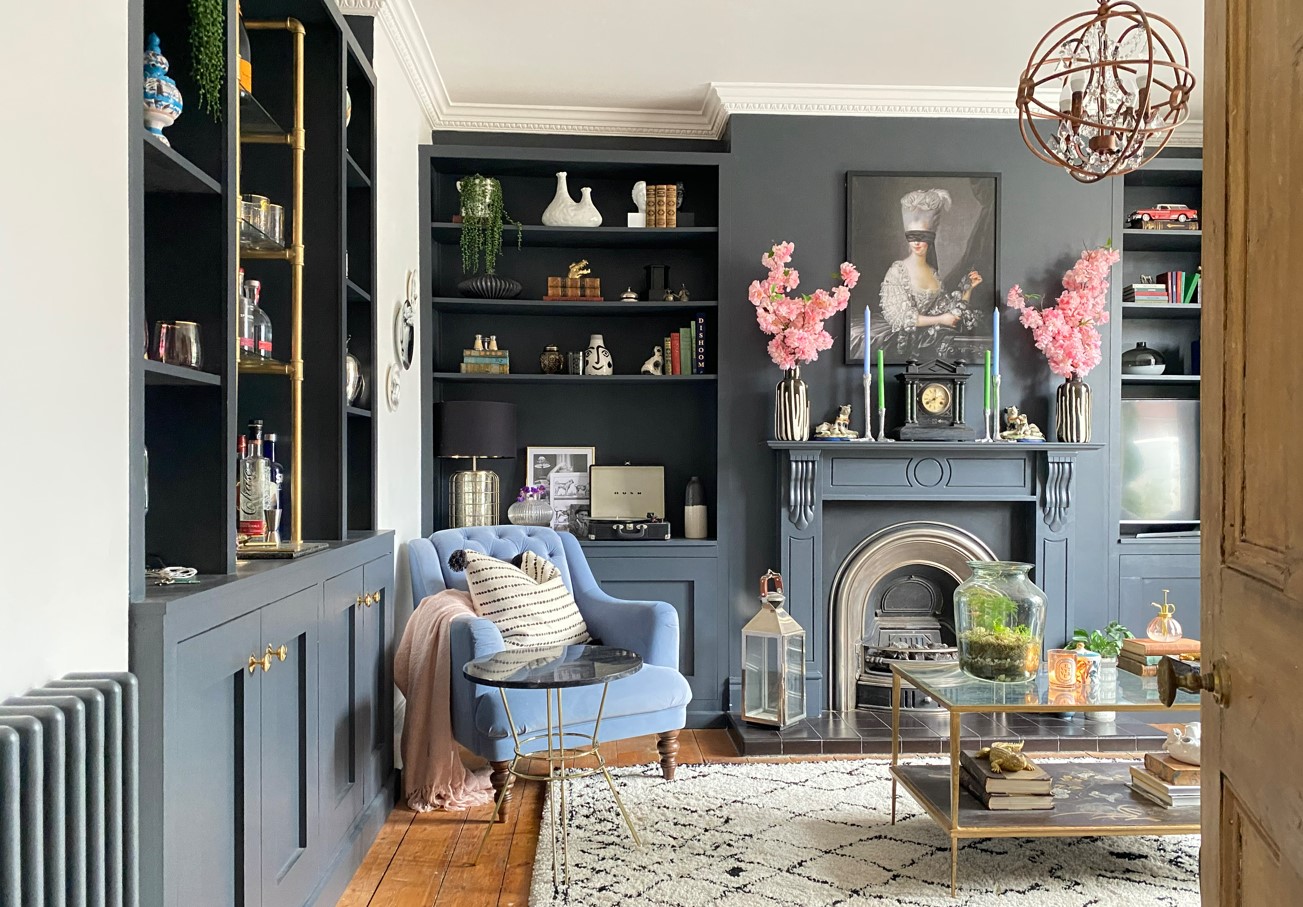 Jack and Dave's lives changed when they moved into their dream home. "Together with our furry little pug, Edgar, this is our first family home. This was my first experience owning somewhere with someone else – where someone else also has an opinion, and having to compromise. But when you walk in and see how far we've come, and how much we've achieved, we are so proud."
Advice for others who don't know where to start?
Jack's advice is to be realistic. Have your list of criteria, outlining what is mandatory and what are nice-to-haves, but keep an open mind. "Even though it might not look perfect on paper, you never know when something will pop up that you'll fall in love with."
Breaking the moving process down into bite-sized steps meant that the big tasks such putting in the offer, conveyancing, planning, and the actual move itself were more manageable for Jack and Dave. "Putting them into different compartments meant we were able to focus on each part at a time, so things didn't get overwhelming."
And what's next for Jack and Dave? "I really want to redo the bathrooms. Then, ideally we want to move Dave's office from upstairs to the store downstairs and also create a downstairs bathroom," says Jack. "There are a few house projects on the list!"
To help others see how they could break down their home move, Jack partnered with Rightmove to share his story. Take a closer look at our helpful guides and tools to help you take the first step towards your home move.