This family found their perfect multi-generational home
Kirstan and Dave's hunt for their ideal new home wasn't going to be easy: they had some very specific and unusual requirements. Dave's father, Jim, had moved in with the couple 13 years previously when they already had two young sons, Zach and Harry, but with some financial assistance from Jim they had been able to build an extension on their previous 3-bedroom property in Brackley, Northamptonshire in order to accommodate him.
"The extension meant that Jim could have his own lounge, kitchen, bedroom and bathroom," Kirstan explains, "and we had our three bedrooms, bathroom, kitchen/diner and living room, so the move to multi-generational living was quite straightforward."
Similar properties currently on the market:
However the status quo shifted when the family unexpectedly grew by one more. "Yes, things changed when Noah, our little 'buy-two-get-one-free' surprise baby came along," laughs Kirstan. "That meant the older two boys had to move into a bedroom together." This compromise was fine initially but as the boys got older and bigger – much bigger – things became trickier and two strapping teenagers sharing a small double room in bunk beds became an issue.
"We started looking to see if we could afford to move to a larger property," says Kirstan, "but we didn't just need a fifth bedroom, we also needed a house with lots of reception rooms in order to allow Jim to have separate living accommodation."
And so the hunt began and although they could just about afford some of the detached 5-bedroom houses they were seeing on Rightmove, these only had a kitchen/diner and living room downstairs, which just wouldn't work for their extended family – and the next jump up in house size was way out of their budget.
The other issue to contend with was the fact that not only did their current house look tired and in need a bit of work, it also wasn't a conventional family home because of the accommodation they'd developed for Jim, which meant it wasn't going to be an easy sell.
"Dave and I joked that the only way we would ever be able to get out of that house was if we part-exchanged for a new build, but we didn't think we'd ever be able to do that because brand new houses, at least the ones we could afford, just weren't big enough – they may have had the bedrooms but they wouldn't have enough living space to make it work for us."
So the family muddled along as best they could until three years ago when, tragically, Dave's younger brother, Ian, passed away. "It was a terrible shock for the whole family," says Kirstan, "as he was only in his early forties – we were all devastated." As Ian didn't have any immediate family his estate was left to Jim, which meant that the family could potentially look for a bigger house.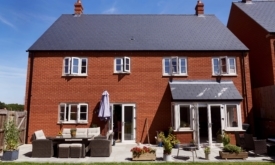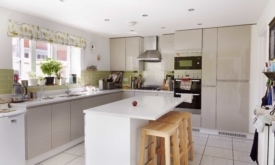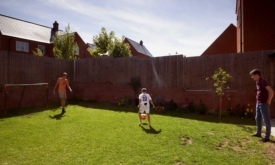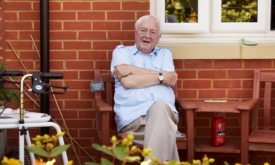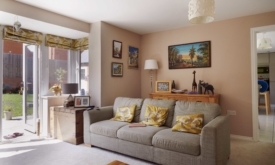 Some time later, the couple returned to Rightmove and set up new property alerts, which is how they knew instantly when the next wave of a new-build development was released in their town. Part of this release included one particularly large house that had a kitchen/diner, a lounge, a dining room and an office downstairs, as well as the required five bedrooms upstairs. It was literally the house they had hoped to find but didn't think existed – and it would also be possible to part-exchange, so no issues with selling their old house.
"When I was a little girl I used to draw the house I wanted to live in when I grew up – it was always double fronted with a big hallway and staircase, and doors from the hall onto the lounge, the kitchen and the dining room – this house literally has all of that, so when I first saw it I thought, 'wow this is amazing – this is my childhood dream house!' And we could now afford this particular place in part because of the inherited estate, so we do see it as Uncle Ian's legacy for us – he has given the boys a bedroom each and his dad the independence that he wants." The house was a mile from their old home so the boys could stay at the same schools and Jim would remain close to the support network he had built up in the area.
"I can see us staying in this house for a long time," smiles Kirstan. "As well as a double garage for storage and a big but manageable back garden for us, there is a front garden that is Jim's domain – his is much nicer than mine because he has lots of flowers which don't have footballs kicked at them!"
Inside, as well as a large living room, there is a den downstairs that has a TV and computer in for the boys to use. Jim has his own bedroom with an ensuite (and even room for his beloved model railway), he uses the dining room as his lounge, and they all share the kitchen.
"That works well for us as we're happy to help Jim out with the cooking and cleaning side of things now that he's getting older," says Kirstan. "We often sit down together for a full roast on a Sunday, and the boys and grandad have fish and chips once a week on a Thursday night which is Jim's treat. I think that's the key to multi-generational living – you need to ensure that if at all possible everyone has their own space or areas, as well as the opportunity to all come together when you want to."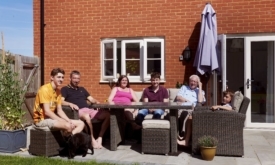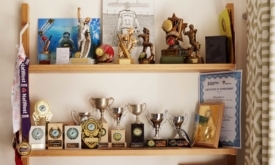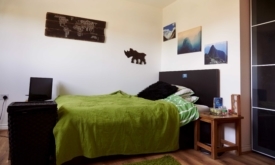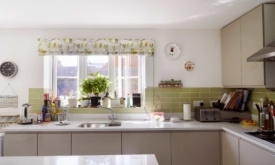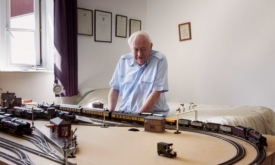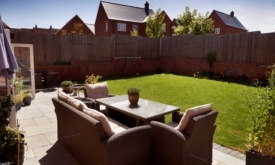 Buying a new build meant that Kirstan and Dave could offer their existing house as part exchange taking the stress out of having to sell. Buying a new build can also help with the financing of your move through the various 'help to buy' schemes on offer. For more information see here.
We'd love to hear your moving stories
Share yours with us for the chance to be featured on Rightmove. Share your story