Stumbling across a hidden gem was our right move
With potentially only one year left to live in London, 32-year-old Australian Krish and her three fellow Aussie friends, Kat, Zoe and Rachel decided that the four of them should all move in together.
"Zoe, Kat and I were already renting together in Fulham," explains Krish, "but Rachel was an au pair so she was living with the family she worked for and with the possibility of our visas running out we decided we wanted to find somewhere for all four of us, to make the very best of what could be our last year here. We'd all become such great friends."
As Krish had taken on the responsibility of finding a place for her, Kat and Zoe to live when they'd first arrived in London, the other three girls agreed that they would take on the task of flat-hunting in London this time around, to give Krish a break from the flat searching.
"I got out of most of the leg work because I found our first flat and had to set up everything by myself which was a pretty tough going," laughs Krish. "It was tricky enough acclimatising to life in London and coping with work pressures without having the stress of finding somewhere to live and everything that goes with it."
Getting down to business, the four friends were soon logging on to Rightmove, beginning their search in earnest. Whenever they found a flat of interest, Kat, Zoe or Rachel would do the initial viewings, usually in pairs, then would call on the others if they found something they thought all four of them would like.
"We were on Rightmove every day looking for a 4-bedroom flat, preferably with a large living room where we could all hang out together, close to a tube station and a 12-month lease." Krish remembers. "Other than that we were fairly flexible."
Focusing their search on north and west London, they explored every nook and cranny the area had to offer and that's how they stumbled across a flat in a neighbourhood they had never really heard about called Maida Hill.
Similar properties on the market:
On the face of it, the flat they had spotted didn't appear to have much to offer – it was situated above a pizza restaurant and hairdressers, and located on a busy London road – but thankfully this didn't deter the four friends from taking a closer look and as a result, they landed a place they were all delighted to call home for the next year.
"I think it's really important to keep an open mind when you're flat-hunting – that way you may well find somewhere that's perfect for you, even if it's not at all what you thought you were looking for. From the outside it may not look that great, but this flat has got a big living room where we all hang out, all four bedrooms are a decent size and it's really close to a tube station so it ticked three of our high priority boxes," says Krish. "We also discovered that we were within walking distance of Portobello Road and its relaxed café culture, but without the Notting Hill prices. Bonus! And the initial concerns we had about noise from the main road went as soon as we stepped foot inside – the double glazing is great and you can't hear the road at all."
Having found what appeared to be the perfect place, the four friends were keen to move in, but there was a slight hitch: "Having rented a few times before, we were well used to current and new tenancy dates never quite lining up, however, with this one they really didn't line up! It, unfortunately, meant the three of us who were already renting together had to get a short-term let for a week to cover the shortfall with when the existing tenants were due to move out. It wasn't ideal, and it could have been a lot worse, but thankfully 'Aussies With A Van' came to our rescue – they took all our stuff and stored it for a week, then brought it to the new flat when we were ready to move in."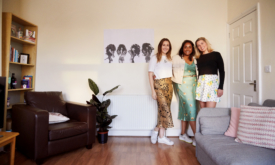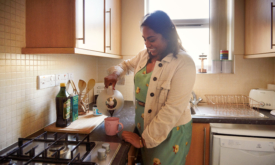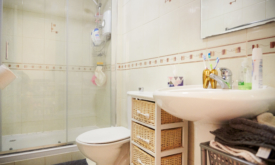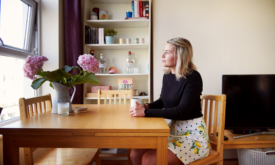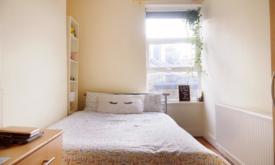 "We're just so happy to have found this place. We can't get over how lucky we are to live in such a cool area and all within budget. Imagine living here, surrounded by all these restaurants, cafes and bars and not being able to enjoy them! Instead, we've found happiness with something that maybe isn't picture-perfect from the outside, but we've made it our own and it's somewhere we can really enjoy the time we have left together while in London."
After advice on how and where to find your perfect rental? Check our renter advice here.