It was scary but I'm glad I bought on my own
When Kamal Hussain, from Eastbourne on the south coast, decided to head north to complete a postgraduate degree in Marketing at Manchester Metropolitan University, his first home in the city was a fairly typical student house-share.
"It was all quite hastily arranged," Kamal remembers. "I think from applying for my masters to moving to Manchester all happened within six weeks! I'd left it to the last minute to decide I wanted to get back into education, and the deadlines for all the courses were looming so I just had to get cracking."
Fortunately for Kamal, he had a friend in not-too-far-away Liverpool who was prepared to check out in-person the house shares he'd found online and report back. "As it was such short notice there weren't the best places available, I was basically looking at all the leftovers!" And so from a not-great-selection, Kamal chose the place that his friend felt would best do the job and headed to Manchester.
"The house was ok but there were a few things lacking – for example my bedroom was on the ground floor and only had a small window which faced the rear of the house and I soon discovered that a lack of natural light can really affect your mood! And the housemates were nice people but most of them didn't have the same standards of cleanliness or hygiene that I did!"
However, one of those housemates did end up becoming a good friend and once Kamal had finished his Masters and found himself a job in Manchester, the pair decided to rent a flat together closer to town. This worked well for a year until his friend decided he wanted to move in with his girlfriend.
"At this point I had to make a decision," says Kamal. "I knew I was happy to put down roots in Manchester, but I also knew I didn't want to go down the house-share route again and renting on my own just wasn't viable."
After looking carefully at his finances Kamal worked out that if he scrimped and saved for another few months, he could just about consider taking that first step on the property ladder.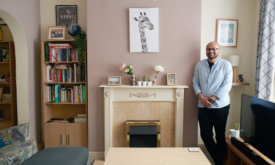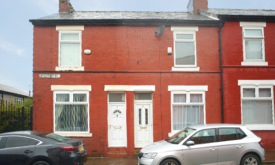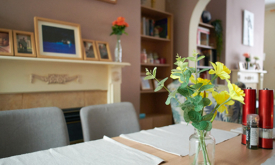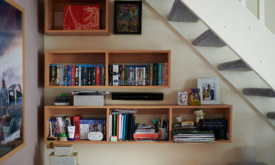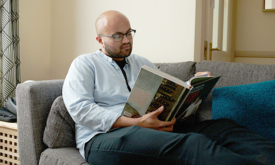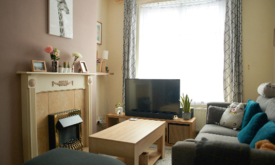 "It had always been my plan to buy as soon as I could, but this situation forced the issue. When I told friends and family my plans they were all super excited and I think the positivity from my mates encouraged me to go for it."
Because he'd been living in Manchester for some time by now, Kamal was familiar with the various residential areas on offer and top of his list was Hulme – an area quite close to the city centre.
When it came to deciding what kind of property he was after, Kamal tried to remain open-minded but he knew from the outset that he wanted a house with two bedrooms so that friends and family could visit.
"I just really wanted two floors with an open plan living and dining space. I was also adamant that it needed to have two bedrooms so that I could have a spare room."
Having scoured Rightmove using draw a search he found a place in his ideal location of Hulme but it was at the top of his budget and a real 'fixer-upper'.
Similar properties on the market:
"With that first-time buyer excitement and naivety, I put in an offer and thought 'I'll fix it up no problem', but thinking about it now, it would have been a disaster! I would have needed a lot of money, time and knowledge just to make it habitable – none of which I had." It was when the seller didn't seem to be in a hurry to move ("it took him about a month just to instruct a solicitor!") that Kamal started to get cold feet. Then, when the survey came back listing a lot of structural and cosmetic problems which he couldn't afford to fix, he knew it was time to pull out. "I think fate lent a helping hand in stopping me from proceeding with that one!"
Starting his search again, Kamal accepted that proximity to the city meant a higher price tag, and as his budget was literally on the edge of him being able to afford a place of his own, a compromise would have to be made.
"Initially my search area was pretty limited but second time around I broadened it out to accommodate my budget. I took advice from local friends about various areas, and as long as there were good transport links I was prepared to compromise on the distance from the city centre."
Kamal soon discovered that Salford fitted the bill perfectly.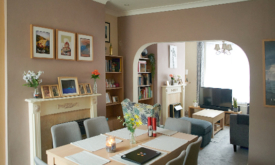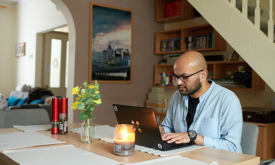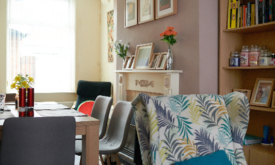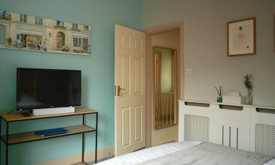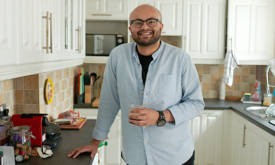 "I looked at about five or six houses in that area and was beginning to get a bit defeatist thinking that I'd never find the right one for me, but then I saw this house and got such a good vibe from it the moment I walked in. It's a two-bedroom terrace house and although it's not huge, the fact that the open plan living room and dining room flow into one creates such an inviting feel, plus I could see that I wouldn't have to do much to it to make it my own – and my friend who came to view it with me agreed – this was it!"
Getting a mortgage proved straightforward for Kamal, however he soon learnt that his planned time scales may have been a little optimistic.
"I started the buying process in June and wrongly assumed that two months would be enough time for the sale to go through," Kamal remembers, "so I was quite stressed waiting for things to happen!"
Thankfully when time did ultimately run out, Kamal wasn't left homeless.
"One of my friends from work was kind enough to let me move in with him and his family – it was supposed to be for a couple of weeks but I ended up staying with them for two months, meaning my move took four months in total – something I later learned to be the national average."
From friends who were able to provide a temporary roof over his head, to those who were able to help with the legal side of things, Kamal credits his friends as being a key reason for his move being the success it was. "I think it was all manageable because I had some great friends on my side. It's quite daunting buying on your own – everyone else I know who has done it has been part of a couple, which means you have someone who is going through the exact same stress levels as you are, and you can divide up the workload of things to be chased and done. Luckily I had some great friends on hand to support and advise me."
Kamal finally got the keys to his own house in October 2018 and knew instantly he had made the right move. "Getting the keys was so satisfying as I felt like I'd worked so hard to get to that point. My first night's sleep in the house definitely cemented it for me – this was where I was meant to be."
Since moving in Kamal has undertaken some basic DIY projects – a lick of paint here and there and replacing the carpet – but in terms of major renovations he hasn't had to tackle anything other than oversee a small repair to part of the roof. "I knew it would be less stressful for me moving into somewhere that didn't need anything doing and I've been proved right."
Kamal now spends most of his free time relaxing in his open-plan living room and not worrying about other people's mess! "Having the second bedroom means I do have the option of letting it out, but for now I want to keep it as a guest bedroom so that family and friends can come and stay," Kamal explains. "And from my previous house-sharing experience I'm not in a hurry to share again!"
And it's not just the house that has lived up to expectations – the neighbourhood has worked out well too. "It's a real up and coming area and the location means I'm well placed for everything I need to do – I can go out and socialise locally and the journey into the city for work is an easy one as I'm near a tram stop. For me, the house has been a true bargain in that sense."
Now happily settled in his new home, Kamal knows he made the right decision when he took the plunge and bought on his own. "Obviously sometimes it would be nice to have company so that you have someone to chat to about your day when you get home, but on the whole I think I prefer living on my own. I'm so glad I made the leap and went for it."
And having successfully maneuvered his way through the house-buying process, Kamal can now confidently share some top tips for other solo first-time buyers…
"The best advice I could give to someone in a similar situation to me is to take your time. This will be the most important purchase you'll ever make, so it's vital that you have no regrets. Spend as much time as possible looking at different properties in different areas and have a realistic idea of what kind of work you're prepared to take on. If you don't have the time or the budget to take on a fixer-upper – steer clear! Also, get as much help and advice from friends wherever possible."
Thinking about going it alone to buy a place of your own? You'll find lots of useful advice here.
We'd love to share your special moving stories on Rightmove.
Submit your story for the chance to win an Amazon voucher!