Jennifer swapped the city for the countryside
Jennifer had always dreamed of swapping her cramped London flat for a quieter life in the country, with visions of rearing chickens in a village somewhere. But she could never quite make it happen.
However, disillusioned with the hustle and bustle of the capital, and suffering somewhat of an early mid-life crisis, the newly-wed hatched a plan with husband Liam to throw caution to the wind and take a leap of faith.
This is how their right move to the country unfolded.
"It didn't take long to realise that the only thing stopping us from making the leap was us!" Jennifer said.
Similar properties on the market:
"After a lot of soul-searching, getting dragged to therapy by a fiercely caring friend, hard work and some help from apps like Calm and Headspace, I started to regain my sense of self. I reconnected with the dreams Liam and I had once shared of owning a house in the countryside where we could raise our own animals, maybe some chickens, and make marmalade over an Aga.
"Cue budgeting spreadsheets, and evenings and weekends googling countryside villages that were commutable to London for work."
Quicker than they anticipated, their Blackheath flat had been valued and was on the market for £570,000. Armed with a sense of purpose, Jennifer and Liam started making subtle, yet important, lifestyle changes so that they could pay off their wedding debts and save harder for the move.
The pair were keen to stay within a commutable distance of London, and as Brexit continued to change the housing landscape, they explored villages in the Home Counties and began making their dream move to the country – something perhaps associated with older homeowners – a reality.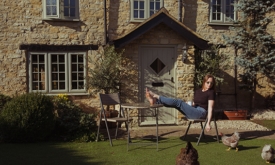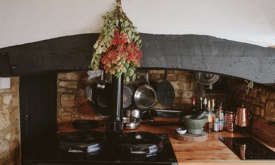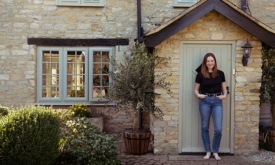 Fast forward eight months and their dream was starting to fall apart at the seams. But after a whirlwind 24 hours in which their flat was viewed and offered on, they had settled on selling to a first-time buyer for £555,000.
The search for their move to the country was back on.
Jennifer said: "We viewed a lot of houses and cottages on Rightmove, broadening our search to Buckinghamshire, Northamptonshire and Oxfordshire.
"We scheduled 12 viewings over one weekend, all beautiful houses and cottages that frustratingly, we just couldn't see ourselves living in for one reason or another. After the 11th viewing, when we were about ready to throw in the towel, we drove wearily to the semi-detached cottage in Yardley Gobion, the last property on our shortlist.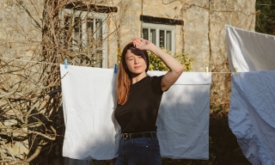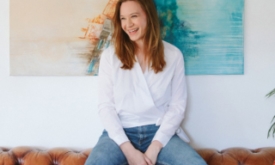 "We could tell that it needed some love but having completed a big renovation on our existing flat, we weren't daunted by the prospect of hard work. None of this really mattered, though, because from the moment we walked in, the cottage felt like home. We put in an offer that same day for the full asking price and five months later, completed on the sale of our old flat and the purchase of the cottage."
Nearly a year later, living among the rolling farmlands of Northamptonshire, Jennifer and Liam regularly wake up to the sounds of sheep, visit the horses, goats, alpacas (and a rogue wallaby) at the neighbouring farms, and have even unexpectedly fallen in love with their sizeable pond.
The couple say that making a radical lifestyle change – turning left to start a new in the countryside when their close friends were staying the city – has changed their perspective on life for the better.
"The change in scenery has undoubtedly improved my sense of wellbeing, but more surprising are the unforeseen positive changes it has brought to my life," added Jennifer.
"No longer fearful of making bold decisions, I've found myself for the first time able to achieve happiness in the present moment. This has been such a revelation to me that it's reignited my relationship with music and I'm finally writing and recording again, after taking a seven-year hiatus to climb the competitive London career ladder. It's also triggered my decision to go part-time.
"It truly is a different way of life. We swap home-baked gifts with our neighbours, genuinely make marmalade on the Aga and as of last month, we have five exquisite hens roaming around the garden.
"Don't get me wrong, I'm not saying you have to move to the countryside and create a poultry paradise to achieve enlightenment. But this move has given me a life I didn't think would be possible for at least another 10 years.
"Yes, we'll have to make some cutbacks as I transition to part-time pay, but with fresh eggs for brekkie and lambing season just around the corner, I'm sure we'll find a way."
Need some pointers on how and where to find your dream home? Check out our buyers' advice page, here.
In partnership with Refinery29
We'd love to hear your moving stories
Share yours with us for the chance to be featured on Rightmove. Share your story