We bought a wreck by the sea & made it home
Reader's note: This article was first published on 18th February 2020.
Having rented in the Bethnal Green area of east London for several years, Kirsty and her fiancé Jon-Marc decided the time had come to consider buying a place of their own. "I wanted to put up shelves!" laughs content creator and freelance photographer Kirsty.
"I know a lot of people make their rented places look amazing but if I was going to spend time, money and effort improving a property, I wanted it to be a place of my own." But what were they going to buy? And where? Having watched house prices in the area where they'd been renting almost double since they'd moved in, the couple realised they would have to look elsewhere.
"We'd really missed the boat in Bethnal Green but to be honest, we had fallen out of love with London a bit anyway – Jon-Marc, who works as a sales director for an IT firm, was fed up with how crowded, noisy and frantic it was. He wanted more space, and a dog, and didn't want to travel on tube trains any more," Kirsty explains.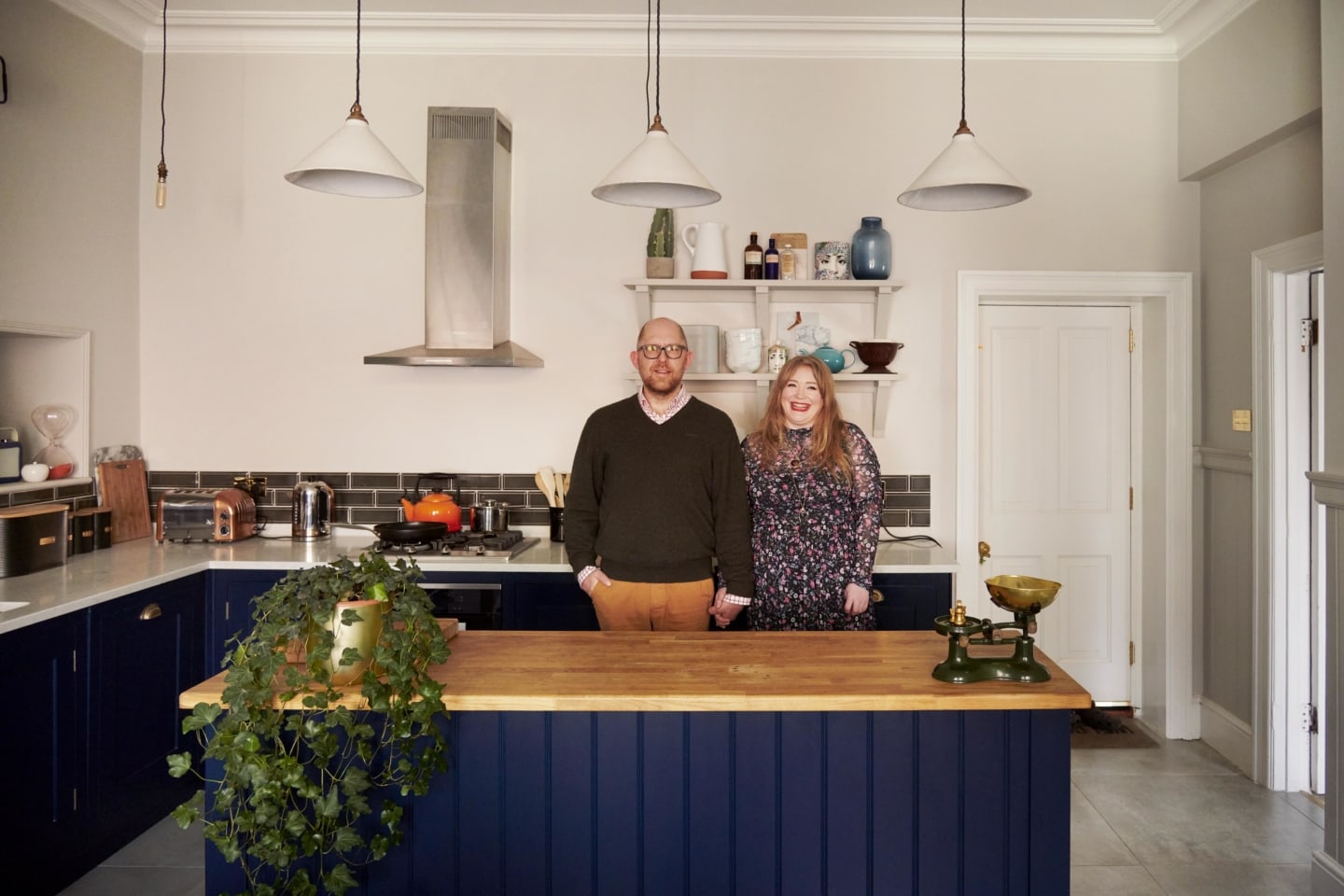 It was around this time that a friend of Kirsty's mentioned that loads of people seemed to be moving to Margate on the Kent coast. That same week Kirsty and Jon-Marc had a conversation with their lettings agent and found out that their rent would be going up.
"I felt that the stars aligned," says Kirsty, "it was time to move on, so I mentioned my friend's comment about Margate to Jon-Marc. He called a friend who lives up the coast in Broadstairs who confirmed that, yes, a lot of people did seem to be moving to Margate. That was it – Jon-Marc suddenly went into action and before I knew it he was on Rightmove, and within a day we had a list of 10 properties to view. Rightmove allowed us to have Margate at our finger-tips – it made it feel local."
Similar properties on the market:
Jon-Marc then zeroed in on Margate itself rather than Cliftonville or Garlinge and other surrounding areas, before specifying the couple's maximum price on Rightmove. He prioritised properties with the keywords 'detached' and 'period property', rather than number of bedrooms.
"We knew we wanted a period property with original features, and we wanted a project that was a good size," Kirsty explains. "We were quite flexible on how many bedrooms because we were more interested in having less rooms but big sizes – we wanted space."
It was on this second visit that they found the place that would become home. "We didn't even see this place together as there was no parking outside the property," says Kirsty. "We were stopped on a yellow line so we had to take it in turns to view the house while one of us stayed in the car. Jon-Marc ran in first, thought it was weird, then I ran in, thought it was weird and then we decided that although it was weird we both liked it, and the next thing you know we had put in an offer!"
Their offer of £305,000 was accepted and although they could have bought something decent for quite a lot less, they had already decided to push themselves so that their mortgage repayments matched the rent they had been paying in London.
"We wanted to spend as much as we knew we could afford as it was a good time to invest. We just wanted to find something that we both thought was exciting and unusual.  With this place we loved the staircase and the fireplace in the entrance hall, and we liked the proportions of the rooms. There were really nice high ceilings throughout and I loved the windows which had original stained glass."
Happy to admit that this wasn't a business decision, it was a heart decision, the couple were confident they could make the place amazing and were determined to have a bit of fun with it.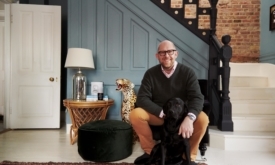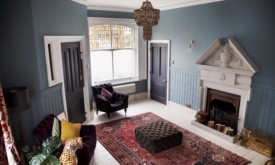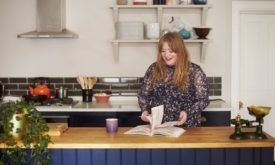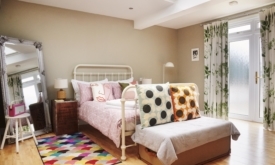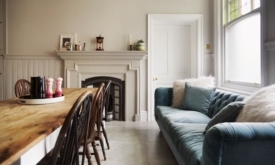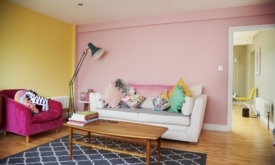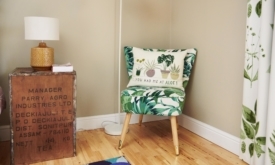 However, when Kirsty says it was 'a project', she wasn't kidding. Everything needed work: re-wiring, re-plumbing, ceilings had to come down, stud walls removed and a new kitchen and bathrooms installed. Plus, there was a 1970s extension to the main 1860s property which had previously been used as a social club. As it had its own front door they decided this could be developed as a separate annexe for guests and potential holiday let.
"The whole place had been empty for a year – I guess no one else had known what to do with it.  It was a wreck and pretty grim. When my mum saw the photos she said 'why are you buying this?'!" Not phased by the massive task ahead, Kirsty and Jon-Marc rolled up their sleeves and got to work. Without a lump sum to finance renovations they had to fund the project month by month out of their salaries (selling a few designer handbags along the way) and to save money they did a lot of the work themselves.
"We spent most of our evenings and weekends doing all the basic manual labour – sanding down wood paneling, sanding the floors, stripping wallpaper, pulling down ceilings and bagging up rubble." All this time they were camping out in what would become the annexe. There was no usable kitchen so they bought a plug-in hob, used a bucket of cold water outside as a fridge and did the washing-up in the bathroom.
Because they were so busy with renovations, it took a while for them to even notice they had moved to a completely different town, but slowly, as they were able to venture out more, they got to know and love their new home town of Margate. "It actually reminded me a lot of east London – it has a lot of really nice vintage shops and a lot of great cafes. The people we met were very friendly and we realised there were a lot of people who, like us, were new to the area. So there was a vibe of solidarity amongst the newbies who were all renovating."
It took about seven months for the couple to get out of the social club and into a habitable room upstairs in the main house, and it was two years before they had a kitchen. "It finally felt like our home when the kitchen was put in, but even then we were so conditioned to the 'camping' lifestyle that I'd catch Jon-Marc saying 'I'm heading off to the launderette' when we had a brand new washing machine plumbed in!"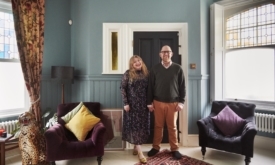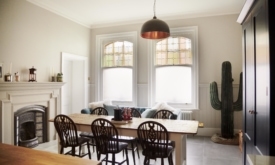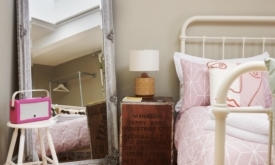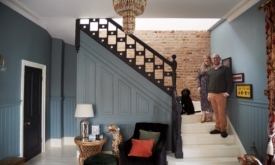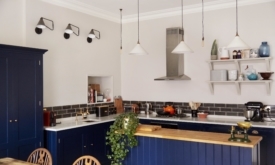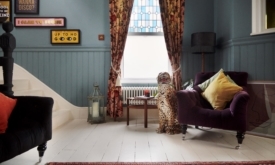 Now that the project is pretty much complete, do the couple have any regrets about taking on such a massive project?
"Absolutely not," says Kirsty. "It was a time in our lives when we could do it – this was our moment to create something special and you don't always have the opportunity to do that, so you have to grab it when you do. Down the line we might have children and/or elderly relatives that we need to care for, and that would prevent us from starting from scratch. Yes, we camped out and it was filthy and disgusting and it was a lot of work, but we wanted to do it. And now that it's pretty much finished we feel very proud of what we've achieved and  love living here. I think my favourite room is the kitchen because I love the windows, high ceilings and feeling of space. The move and the house have definitely given us everything we'd hoped for, including our gorgeous dog, Gordon!"
The couple don't regret moving away from the capital either. "I suppose people might think that we were a bit rash just spending one weekend looking at 10 properties in an area we didn't know and then buying somewhere immediately, but we didn't want to spend months looking and stressing over every minor detail – we just wanted to get on with it. I loved east London, it was such a fun and vibrant place to live and I'd recommend it to anyone but I'm also glad I moved to Margate because it really is like a tiny slice of east London, but with a bit more space and the sea! Plus I still visit when I can as it's not that far and the train passes through Stratford International!"
Feeling inspired by Kirsty and Jon-Marc's story and want to renovate your home? Visit our Home Improvements hub for tips from adding an extension, revamping your garden, to advice on how to do up your bathroom and kitchen.
Want help finding your forever home in a completely different area? Check out our 'Where Can I Live' tool here.
We'd love to share your special moving stories on Rightmove.
Submit your story for the chance to win an Amazon voucher!