Robbie Williams is selling his countryside mega-mansion
Want to take a look inside the home of a global superstar? Well, let Robbie Williams's magnificent Wiltshire mega-mansion entertain you.
The Rock DJ singer and his wife Ayda have put their family bolthole up for sale for £6.75 million with estate agent Knight Frank, after reportedly buying the property in 2009.
Compton Bassett House is a 71-acre country estate with seven bedrooms, plus there are two staff flats and a detached cottage.
The spectacular gardens and grounds also include a walled garden with pavilion, a grass football pitch, tennis courts and a helicopter hangar. There's also a vast leisure complex with a gym, indoor swimming pool, hot tub, steam room and sauna.
Inside the palatial home, the couple have combined bright pops of colour and designer interiors with features that showcase their fun and quirky sense of humour, such as the giant dog sculptures lining the walls of the open-plan kitchen/diner.
The couple, who have four children, say the idyllic country estate has been the perfect escape for their family.
"We have welcomed four beautiful children into the gracious rooms at Compton Bassett House, where we have shared much laughter and joy."
"The gardens and trees have enchanted us with their magic, and on rainy days (of which there are many in England), we have played and splashed around the indoor pool, much to our delight.
"Compton Bassett House is most definitely a family friendly house that deserves to have much more laughter and joy within its beautiful walls. We hope the incoming purchaser will enjoy just as much as we have," they said.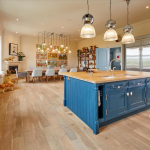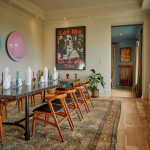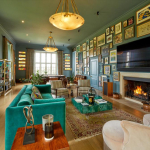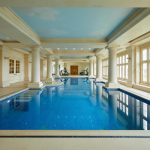 Rupert Sweeting, a partner at estate agents Knight Frank, who are handling the sale, says: "Compton Bassett House is a fantastic family house that is ideal for entertaining. Although our clients are sad to be leaving, they're certain that the next owners will love it as much as they have.
"The house has the benefit of being on the edge of the village but also has beautiful gardens and grounds surrounding it providing complete privacy and protection."
READ MORE: The Anna Edit: buying a Victorian gem was our right move