Harry Potter fans can live at the real-life refurbished Hogwarts
It's one of the most iconic locations in British cinema history and now Harry Potter fans can don the Sorting Hat and move into the real school of Witchcraft and Wizardry.
That's because the actual school that doubled up as Hogwarts in the Warner Bros franchise has been converted into lush, modern apartments.
Royal Connaught Park in Bushey, Hertfordshire, formerly the Royal Masonic School for Boys, turned into Hogwarts when its 1,400sq ft dining hall was used as the Great Hall in the first three Potter films.
But the building has since been transformed into flats, with this modern two-bedroom apartment on the market for £759,950.
READ MORE: Peek inside some of the tiniest homes on Rightmove
The Victorian Gothic stone and turreted Grade II-listed building, set in 100 acres of parkland, was constructed in 1903 and is just 20 minutes away from central London on the train.
This property is a real dream. A private health and fitness centre is based at the complex, which boasts an indoor swimming pool, steam room and sauna. There are also tennis courts on site as well.
The tower at Royal Connaught Park was Dumbledore's famous round office in the fifth movie, The Order Of The Phoenix, while residents can also rent out the Great Hall for weddings and other private events.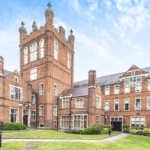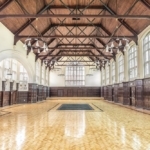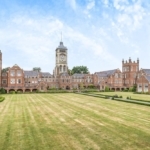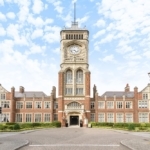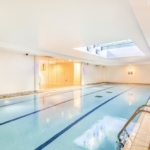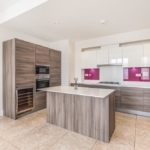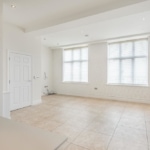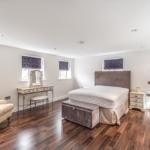 The apartment also comes complete with two allocated parking spaces, double glazed windows, under floor heating, a 24-hour concierge and a shuttle service to and from Bushey train station.
The main building has also been the setting for a host of other British classics including Monty Python's Meaning Of Life, Hot Fuzz and TV shows such as EastEnders, Spooks and Midsomer Murders.
Rightmove's property expert Miles Shipside said: "It's fantastic that Harry Potter fans with enough Knuts, Sickles and Galleons can buy their own corner of a truly magical place. This converted school has been built with incredible craftsmanship and it's plain to see why this charming building was chosen to depict Hogwarts. I'm not sure if you can play Quidditch at the on-site leisure centre, but residents at Royal Connaught Park definitely have a gem on their hands."
READ MORE: Step inside the most incredible castles for sale
This property is listed for sale with Breslauer.