Flooding: How to protect your home from a flood
It's bad enough watching the devastating effects of a flood through the detachment of a TV screen, but it's something else entirely to find yourself and your home at the mercy of the rising water levels.
According to the Environment Agency and the National Flood Risk Assessment (NaFRA) 2011, one in five homes in England and Wales are at a significant risk of flooding, meaning a day or so of heavy rainfall can have disastrous consequences for your home and your possessions. Rather than falling victim to flood damage in your home, take a look at this handy reference guide and fortify your home against the oncoming storm.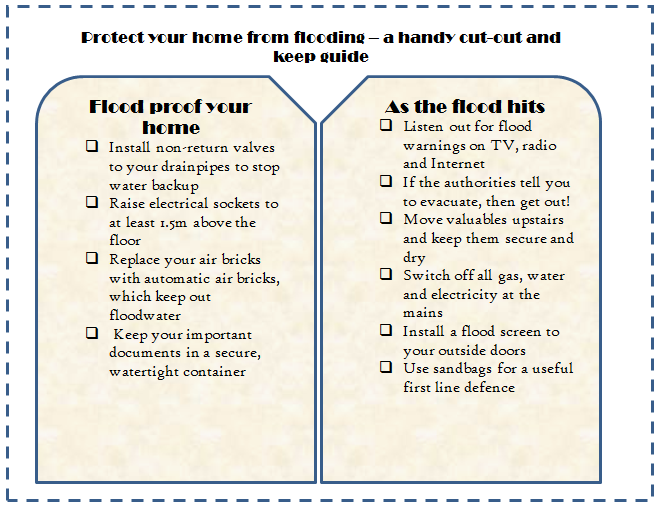 How to flood-proof your home
There's no such thing as a 100% flood-proof home, but that doesn't mean you can't make it flood resistant. A basic flood defence can cost somewhere in the region of £2,000 to £6,000 according to the Association of British Insurers, but here are some things you can do to prepare a decent flood defence that won't cost the earth.
Non-return valves

are  one way drainpipe valves that use a hinged door to allow water to go out, but block any water coming in. These range from £40 to £150.

Re-wire your electrical sockets

so that they're at least 1.5m above the floor, and raise your electrical appliances on plinths (or mount them to the wall) to provide extra ground clearance. This may prove more costly than you expect, so see a qualified electrician before you carry out this kind of work.

Upgrade your air bricks

to ensure that flood water can't get into your house through your external vents. Automatic air bricks work in the same manner as non-return valves, allowing air into the house but blocking out any flood water coming in. These kinds of air bricks cost between £35 and £80.

Lock up your important documents

such as your home insurance policy, your passports and identification, your bank details and your treasured photographs. If you want proper protection then you should invest in a waterproof fire chest, which you can pick up for as little as £50 depending on what size you want.
What to do when the flood hits
Listen out for flood warnings on the radio, TV or Internet.

Both the Environment Agency and the Met Office have sections dedicated to severe weather warnings, and your local radio station will likely give up to date information about the progression of any flooding in your area. If you live in area prone to flood risk, make sure you're signed up for the Environment Agency's text message alerts.

If you're told to evacuate your home

by the authorities, don't argue with them. As hard as it may be to leave your home at the mercy of the water, you'll only be putting yourself and your family at risk if you ignore their advice. When the time comes, get out!

Move as many of your valuables as you can upstairs.

The higher up you are, the better off you'll be. The same applies to your valuables e.g. your TV, your kitchen gadgets, your expensive or valuable trinkets. It's unlikely that a flood will engulf both the ground and the first floor, so heading for the high ground should keep your possessions safe.
Switch off all of your gas, electricity and water supplies by the mains. Given enough force, flood water can cause damage to pipes, causing water and gas leaks in the home. All it takes is a spark from a water-damaged socket to cause further devastation to a flooded house that also catches fire (the aftermath of Hurricane Sandy in New York shows what devastation can be caused by a combination of flood and fire) . Ensuring that all of your utilities are completely shut off before the flood hits will minimise this risk.

Install a flood screen on your external doors

to stop flood water getting in through these vulnerable areas. These screens are lightweight barriers that can be fixed to virtually any door opening, providing a tight seal between your entrances and the flood water. These are the most expensive of items, ranging from £300 to £500 for a quality flood screen.

Use sandbags to create a useful first line of defence.

Sandbags are a popular and traditional flood barrier, so it helps to get these ahead of time. Your local DIY shop or building merchants should supply them for you, but check with your local council as you might be able to get them for free.
With enough preparation, you can minimise the damage that a flood will cause, and you can ensure that your precious possessions stay safe and secure despite the rising water.
Jamie Gibbs is the resident blogger for flood insurance comparison site Confused.com Confused.com. His motto is "prepare for the zombie apocalypse, then you can handle any other disaster that nature throws at you".