Negative equity: What is it, and what can you do about it?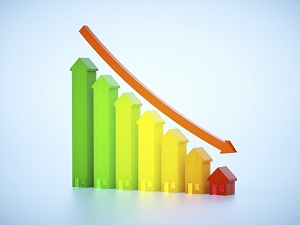 It might sound like a throwback from the 1990s but negative equity is very much with us now. It's estimated around half a million UK homes are worth less than the original mortgage price, with Northern Irish property owners feeling the pinch more than those in other regions according to mortgage lender HML.
Two in five homes in the province may be in negative equity, but homeowners in England, Scotland or Wales certainly aren't immune. Here's why.
Negative equity isn't a problem if you have no intention of moving or if you are within sight of clearing your mortgage and owning your home outright. But many people aren't in this situation and could find their home is worth less than what they paid for it.
What to do if you think your home has fallen in value
If you are planning to sell you could encounter problems if your home is worth less than what you owe on it. You will need to assure any potential lender that you can put down a reasonable deposit, and that you've consistently made all your monthly repayments. Also, you'll need to convince a lender that the value of the property you plan to buy isn't beyond your means.
If you suspect your home has fallen in value, it may be worth getting a few estate agents to value it or paying a surveyor to perform this task.
If the consensus is your property is worth less than the amount you owe on it, it is possible to overpay your mortgage to reduce your loan below the value of the property so you're no longer in negative equity.
If this isn't possible, speak to your lender. They may offer what's known as a negative equity mortgage, which is a loan based on the fact that your home is now worth less than what you owe in mortgage payments. If they don't, search for other lenders who could help you out.
Negative equity mortgages
It's worth being aware there are limits on how much negative equity you can take with you. In England, Wales and Scotland you may be able to borrow up to 125% of the value of your home, while in Northern Ireland this can be as high as 175%. So, if your home is valued at £200,000 you could get a mortgage in Northern Ireland of up to £350,000.
Having considered the options you may decide sell up. If so, be prepared to pay more in fees to get a negative equity mortgage, and you will probably pay a higher interest rate.
On this point, bear in mind that interest rates may be very low at present, but they are expected to rise in the next couple of years, so it's worth building up an emergency fund to cater for increased payments.
If you want more information on mortgages, particularly if you are struggling to pay yours, visit the Money Advice Service guide on the subject.
---
All information accurate at time of publication.
This article is provided by the Money Advice Service.