The deposits you'll need in 20 cities across England
Since the housing market reopened in England we have seen a flurry of activity from first-time buyers looking to get their foot on the ladder.
In fact, demand from serious buyers has recovered from a 35% annual drop near the beginning of lockdown, on April 6th, to now being up 2% on this time last year.
But if you're a first-time buyer, how much of a deposit will you need?
We looked at 20 cities across England to see how much you may need to save up for, or hope to borrow from family, if you need a 15% deposit to be able to afford the mortgage repayments.
The current average asking price of a typical first-time buyer property in England (i.e. studios, one bedroom and two bedroom properties) is £241,891.
On that basis, the average first-time buyer in England will need to save £24,189 for a 10% deposit, or £36,284 if you're looking to have a 15% deposit.
Here's a breakdown of what you can expect to save depending on where you live in England: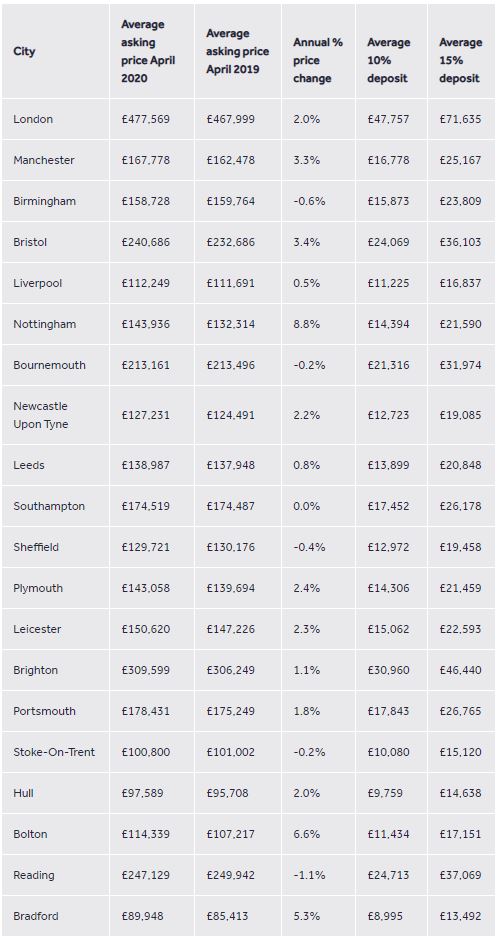 During lockdown we also found that 94% of first-time buyers were determined to continue with their plans to get their first step on the housing ladder when they were allowed to do so.
What do the experts say?
Our resident property expert Miles Shipside, one of our founding directors and a BBC News regular, shared some advice on how to approach negotiations if you choose to put an offer in.
He said: "Many first-time buyers looking to grab a bargain right now may find they're disappointed, as on the whole asking prices of all first-time buyer properties up for sale have been holding up.
"There will of course be some sellers who need to sell quickly and may be willing to negotiate on price so it's worth asking your local agent if there's any with this predicament if you do now need to lower your budget.
"However, where demand is outstripping supply and it's an attractive property in a desirable location then an offer closer to the asking price will have a better chance of being accepted.
"If a property is over-priced it's usually pretty obvious by looking at similar properties up for sale on Rightmove in the same area, or by using sold prices to find out how much properties nearby sold for recently, so this should help prospective buyers feel more confident that they know how much they should be offering."
What's the regional picture?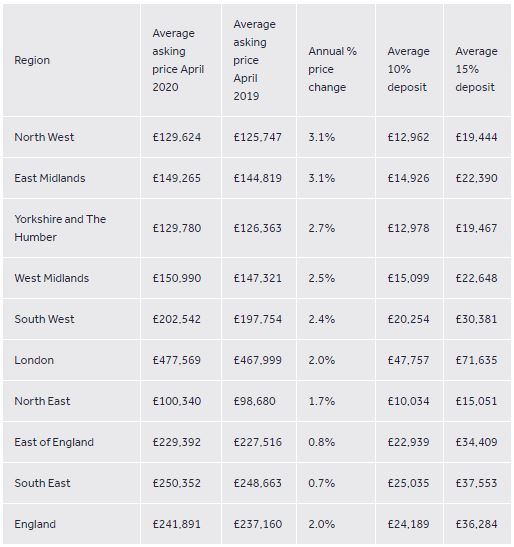 READ MORE: Can I still buy my first home? Our experts answer your questions