Discovering a Built for Renters home was our right move
Andrew and Marco had been living in Italy for eight and a half years, but in February 2022, they decided it was time for a change. They'd spent the pandemic living in the heart of Rome, just by the Colosseum, with their chihuahua, five-year-old Polly. And they'd also welcomed another chihuahua, Penny – affectionately branded their "lockdown dog" – while living there.  
"As it did for lots of people, Covid really changed our outlook," says Andrew. "It had been a year and a half since I'd seen my family in the UK, and we thought okay, maybe it's time for a change of scenery, and for me to come back home". 
Marco is from Italy, and had been a flight attendant, up until the airline he was working for closed.  
Even though Andrew's family don't live in London, the pair decided they wanted to live in a city, and settled on the capital when looking into areas to relocate to. 
Andrew and Marco now both work for a watchmaking company in central London, so it was important for them to have good transport links into the city, as well as somewhere well suited to their dogs. 
"The rental market is a lot different here compared to Italy," says Marco. "We were struggling to find a home that was pet-friendly, and we only had six weeks to find somewhere to live. We weren't able to attend viewings in person, as we were still living in Italy while we were searching for a home." 
"I was spending lots of time looking at potential London areas to move to," says Andrew. "I used draw a search to define different parts of London that would be good for getting into central for work, and browsed those areas". 
"He was on Rightmove a lot – a good hour a day at least," laughs Marco.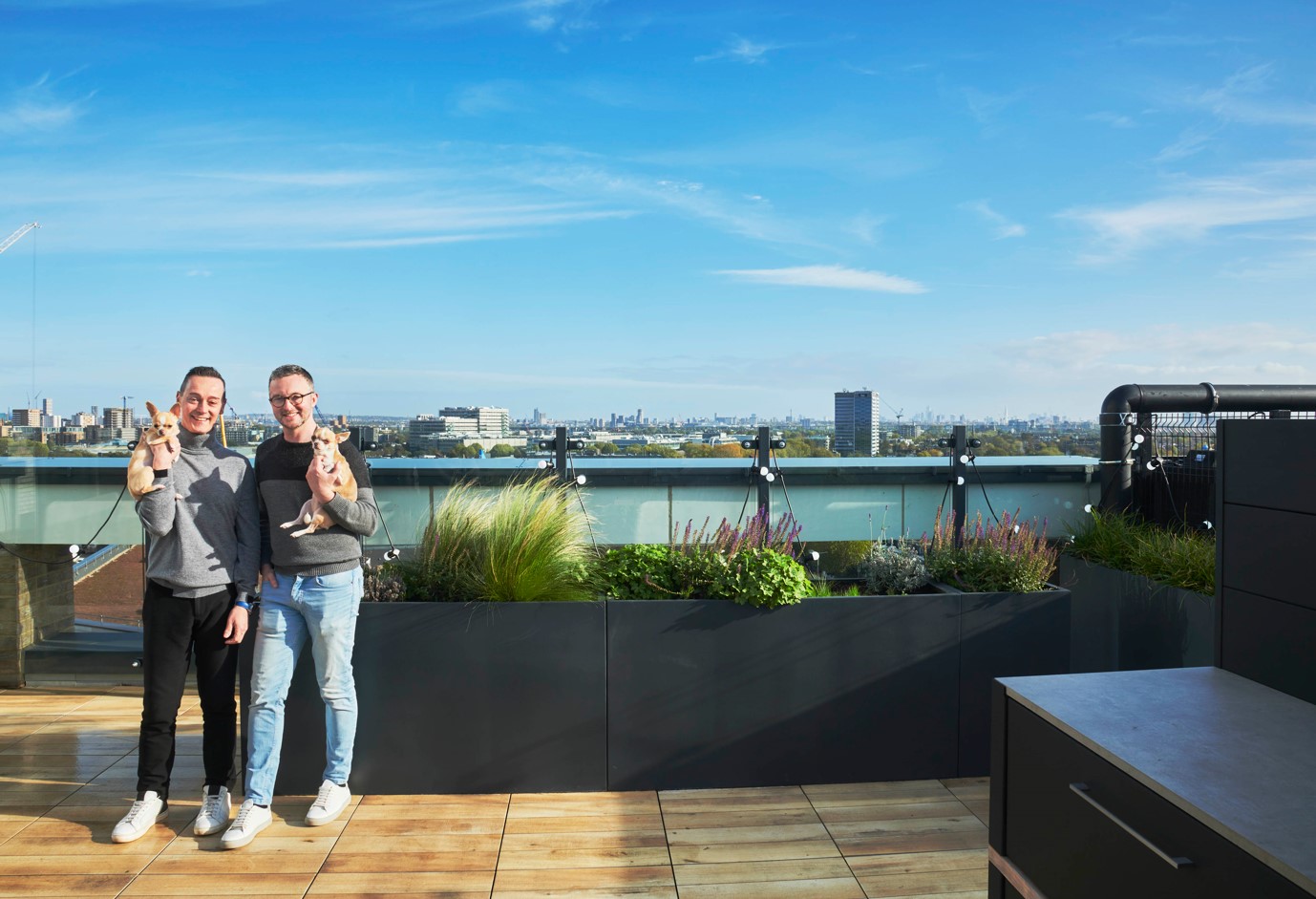 They soon came across Apo: a brand new Built for Renters development with sites in east London, and Kew Bridge. Built for Renters homes are housing developments that are made up entirely of rental homes, with lots of added perks like gyms, cinemas, and WiFi included in the price of the rent. Renters can also secure long-term and flexible tenancies: "We have a flexible 35-month contract with an eight month break clause – that makes things really fair, and gives us that choice to stay or move, depending on our personal needs", says Andrew. Apo contracts are for 35 months and can be extended at any point after the first seven months, providing two months' notice is given. 
"Built for Renters is a great new concept", Andrew adds. "This sort of home wasn't as widely available when I last rented in London 10 years ago. And the quality of the building is amazing. Everything is pristine, and we have these really thick windows. As well as helping keep it quiet, it makes sure the flat stays really warm."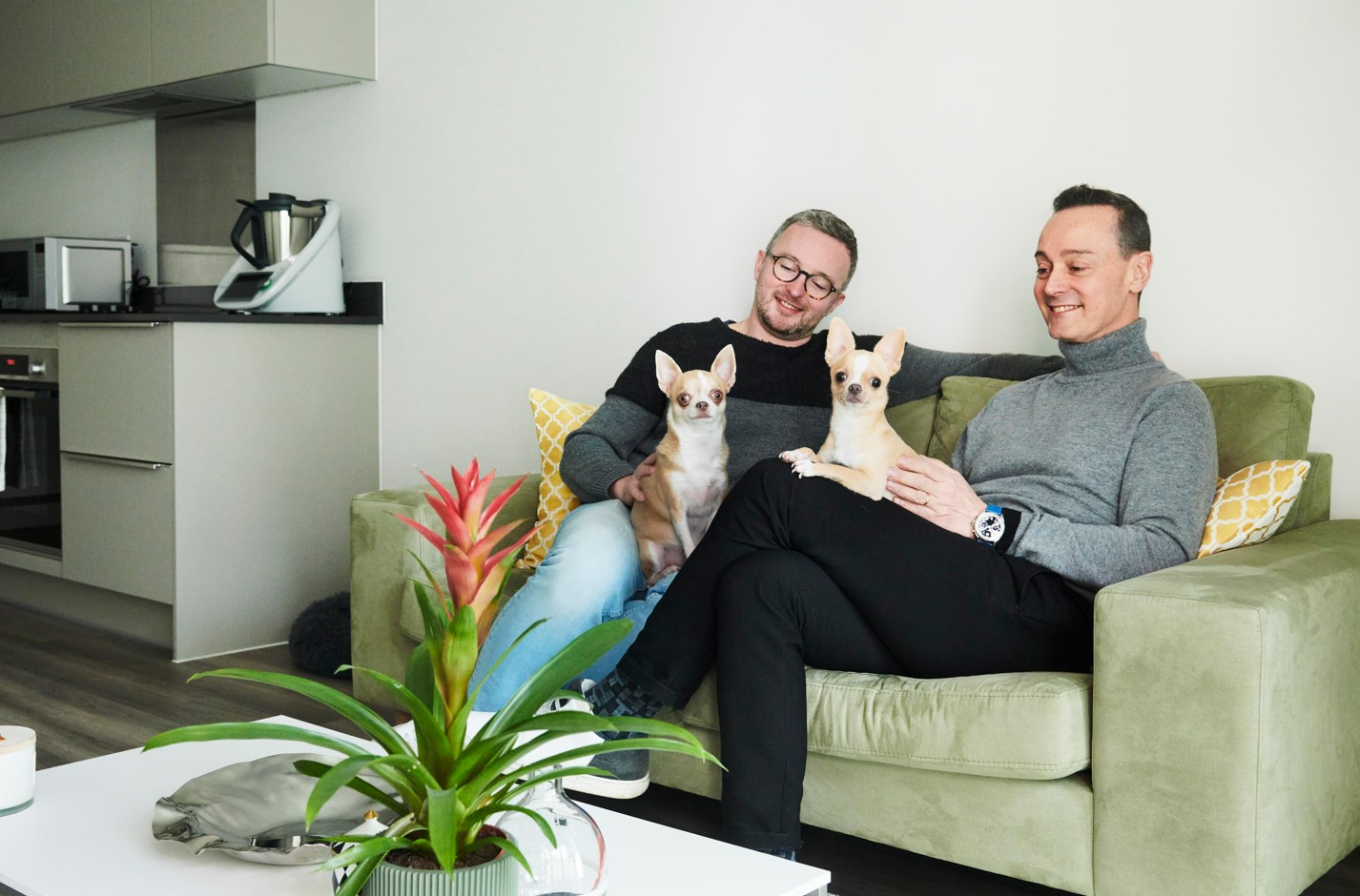 Andrew and Marco knew they wanted a Built for Renters home when they started their property search. First and foremost, they wanted somewhere pet-friendly, as well as a home that was furnished to a high standard. "We'd moved over from Italy with about eight boxes between us – we really had the bare minimum, so we wanted somewhere that was furnished, and ready to live in." 
"When we came across Apo, which is pet-friendly, while also having such a luxury feel to it, we were really impressed," says Marco.  
"We weren't able to view the flat in person while living in Italy, but Apo sent us lots of videos of the complex, and all the information we needed. They were very responsive, and that's part of the reason we decided we wanted to live here. As soon as we saw the flat and the communal spaces in person, it confirmed they were exactly like the videos we'd seen, so we decided yes, let's do it." 
The couple originally moved to an Apo complex in East London, but found they wanted to be nearer to more green space, so relocated to Apo in west London's Kew Bridge. They now live in an open-plan, one-bedroom flat, which also has a private balcony. "You take a big balcony for granted while living in Italy as everyone has them, and we didn't expect to find the same in London. But we have this big private outdoor space – we love just sitting out here with a coffee," says Marco.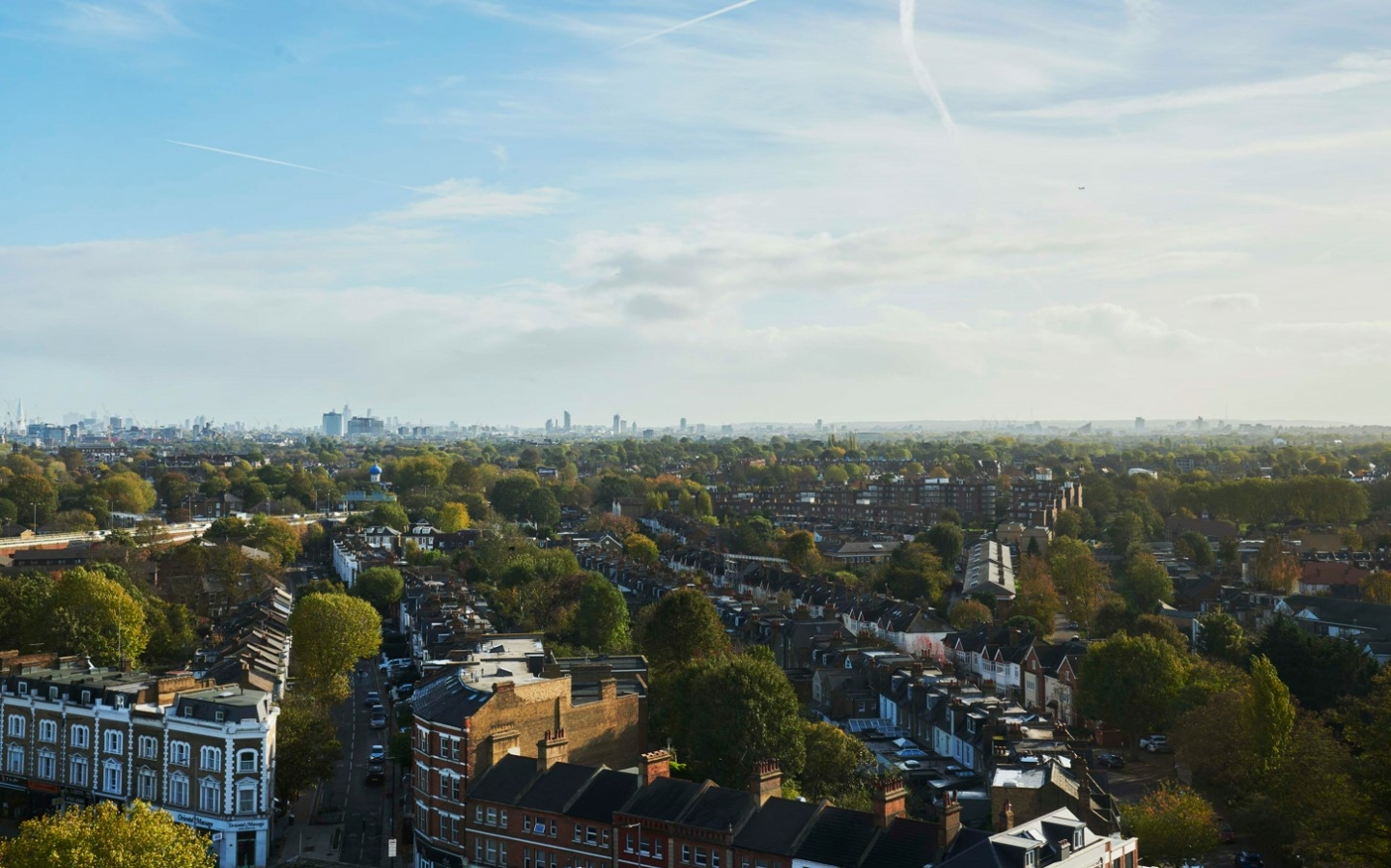 The couple have fallen in love with local area, too. "We walk about 50 metres out the door and we're at the banks of the River Thames," says Andrew. "There's a really nice contrast here between the new modern buildings, as well as lots of history, and little country pubs dotted along the river. The entrance to Kew Gardens is just across the bridge, and we're also really close to Richmond and Chiswick. We've got everything we need close by."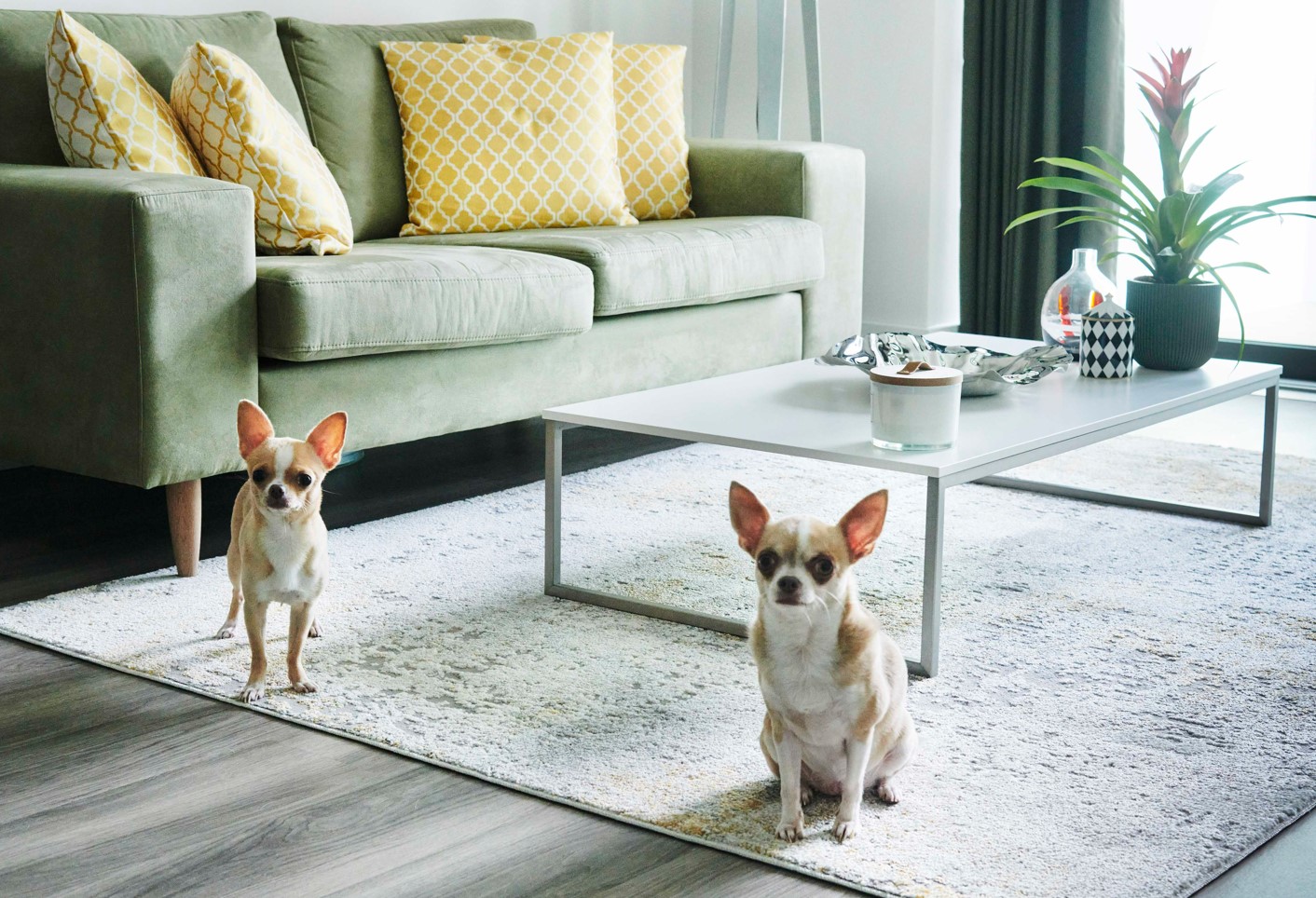 "Polly and Penny love the area as well! There's so much space, and it's just a really dog-friendly area in general." 
And Built for Renters homes aren't just about living accommodation. Andrew and Marco have access to a whole new social side to living in this type of home, that's included in their rent.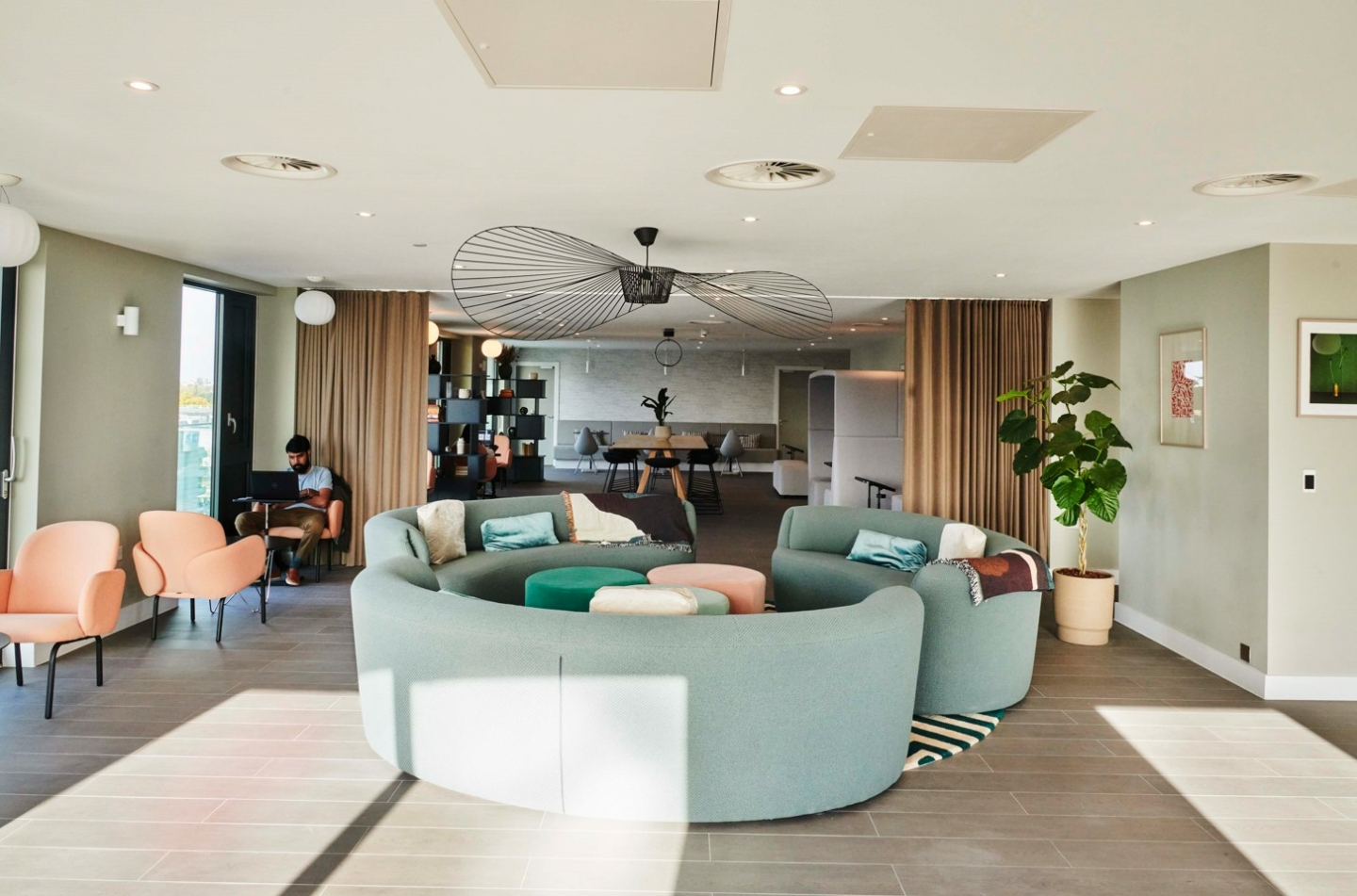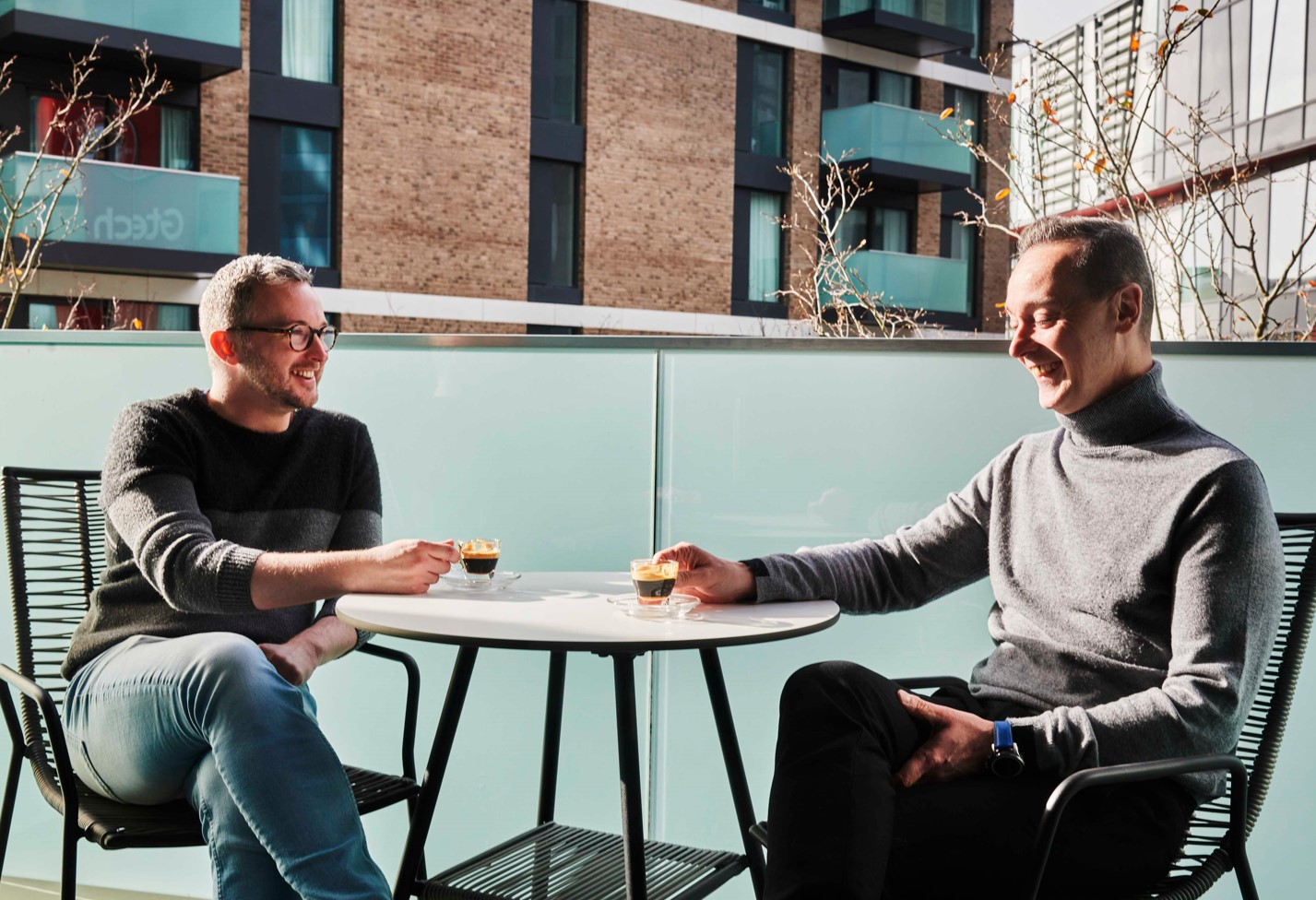 "There's a gym opening soon, as well as a cinema, and we have roof terraces – which have amazing views of Richmond on one side and central London on the other – with barbecues set up for residents to use," says Marco. "We also use the communal space downstairs – we'll nip down for the post in the morning and stay for a coffee, as it's such a nice place to be." 
There are also yoga courses and regular parties with DJs, and different street food vans visit the complex every Friday night. "It has a lovely feel. You can feel the community just walking around, too – people are friendly, everyone says hi. It's also really nice knowing there's always someone to help at the concierge desk" says Marco.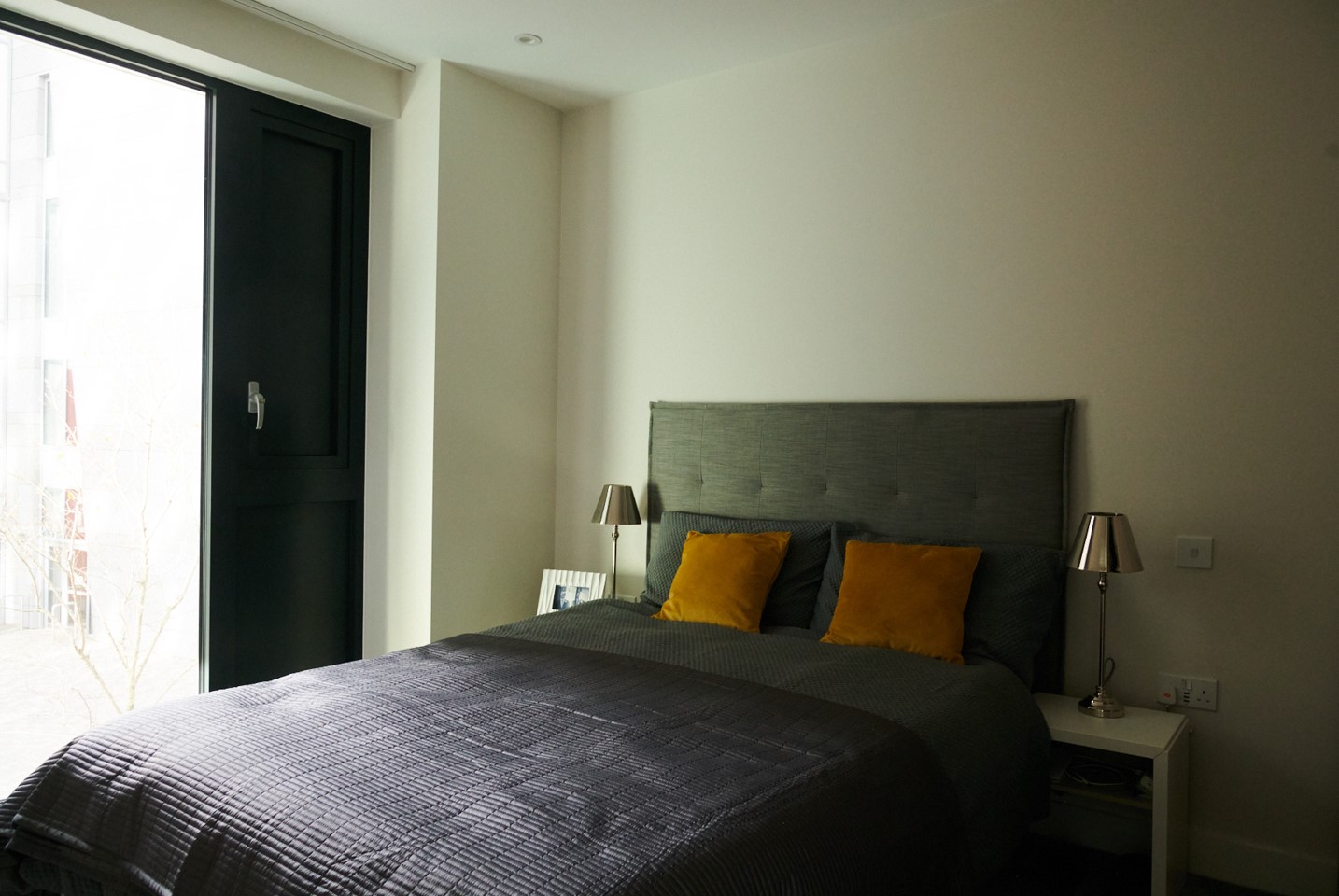 One of the things that attracted Andrew and Marco to this kind of home was the fact it was fully furnished, and to a high standard. "The flat is filled with BoConcept furniture. One of the great things about these homes is that they're all furnished in the same way, so when you're allocated a flat, you know you're getting the same quality as all the other residents." 
Now that they've been in their home a few months, Andrew and Marco are in the process of putting their own stamp on their flat: "The flat has quite a minimalist feel, so we're filling it with plants, a rug, lamps, that sort of thing," says Andrew.  
And how do they find their Built for Renters home so far?  
"This is what we envisaged London living being like. We're really happy here. And the dogs love it too!"