This is what Brittany did with £200,000
After graduating from art school, travelling Australia and spending years renting together, Brittany Bathgate and her partner Dean decided to take the plunge and buy a place of their own. Armed with an expert eye for interior design and Dean's skills as a builder, the pair wanted to settle down in their adopted home city of Norwich – but the road ahead would prove to be a bumpy one. Their story is a tale of how taking on a renovation as first-time buyers, and overcoming the many hurdles associated with planning committees, is a steep learning curve.
Similar properties currently on the market:
Brittany said: "After spending a year in Australia, we'd developed a taste for large open spaces with lots of natural light – something that we wouldn't be able to afford outside of Norwich, but also something you don't come by often in Norwich. "With Dean's skills and contacts within the building trade though, we were confident we would be able to pull off something unique. Our budget was small, but my ambitions were big." Right from the off, Brittany and Dean wanted to create a space that was distinctively their own. So, with a budget of £200,000 – including renovation costs – they searched for something virtually unliveable but with ample room to extend and develop.
Their dream home, a two-bedroom mid-terrace property located just two minutes from their rental, was on the market for £140,000. The 90ft back garden was the clincher.
"An architect helped illustrate how the use of skylights and vaulted ceilings could create the illusion of a bigger space," the Norwich Art School graduate added. "We knew that in order to save money and avoid compromising these ideas, the majority of this project, aside from plumbing and electrics, would have to be carried out ourselves. Before any of the fun could begin, however, we had to endure a gruelling three months of back and forth with planning permission.
"At times I thought we'd never get the go-ahead and would have to forfeit having an extension altogether, especially when we found out after 12 weeks that our application was being sent to a committee and could take a further four weeks. "By a stroke of luck, in the final days leading up to our application being handed over, the planning authority relented, and we were free to go ahead as planned." But the renovation process took a lot longer than they first imagined. The couple were both working full-time, sacrificing days off, weekends and evenings to work on the house.  It all felt very slow.
Gradually, room by room, the house was stripped back to its shell. Dean, Brittany and Dean's dad spent days smashing down walls and demolishing the entire downstairs to create an open-plan kitchen and dining space. They removed all the bathrooms, the kitchen and two chimneys. Brittany said: "Although we had an architect's drawing to work off, I still had all these wild ideas of higher ceilings, floating stairs and oversized glass skylights that I wanted to try; however, I swiftly learned that renovating isn't as simple as pointing at a Pinterest image and saying, 'I want that'.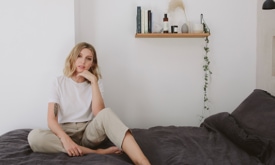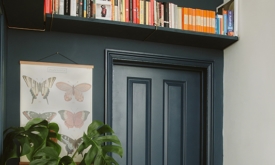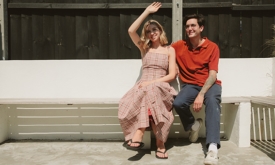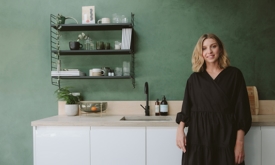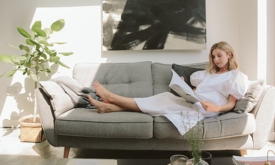 "Eighteen months later and although the house was by no means complete, we were finally at a stage in which we could live in it. The sense of relief and excitement to leave the rental house and move into something we had created was unreal." But because the pair had used up the majority of their budget on the renovation, they had little cash (or furniture from their part-furnished rental) to deck out their new home. Brittany says this was a blessing in disguise, however. "It gave us time to become more familiar with the space and figure out what would be best for the house," she revealed.
"I often look back and think if we had jumped the gun by decorating everywhere as soon as possible, we'd now be faced with a lot of regretful decisions. "I think some of our family members are confused as to why we've done some of the things we've done. But I love that walking into our house makes people think and question the how and why.
"From digging out footings to building ceiling rafters, my favourite part of the journey has been gaining a new set of skills, knowledge and confidence. Before this process began, I underestimated what goes into building and renovating a house. Dean and his dad have taught me a lot about construction, and I like to think I've helped them think outside the box when it comes to projects such as this."
Need some pointers on how and where to find your dream home? Check out our buyers' advice page, here.
In partnership with Refinery29
We'd love to share your special moving stories on Rightmove.
Submit your story for the chance to win an Amazon voucher!