Taking a punt on a Scottish castle was our right move
Reader's note: This article was first published on 24th August 2018.
Like many of us, Kim and Maria often found themselves browsing Rightmove. But, while most of us only dream about selling up and setting up home in one of the many castles that can be found for sale around the UK, this pair did what the majority never do and actually bought one.
As a software engineer working in the city and a social care worker commuting four hours every day, Kim and Maria were adamant there must be more to life. They had often toyed with the idea of leaving London life behind and starting a B&B somewhere a little more remote, chasing that romantic idyll of what life could be like for them both, but it remained just that, a daydream.
It was only when Kim discovered Castle Levan on Rightmove that she started to realise their dream could become a reality. Half joking, she quickly texted Maria saying "Do you want to live in a castle?" and before they knew it they were on their way to Scotland for a viewing.
Nestled on the edge of Clyde Muirshiel Regional Park, about an hour's drive from Glasgow, Castle Levan was built in the 15th Century. After being left in a ruinous state for many years, it was only in the 1980's that it was lovingly restored, making it once again habitable. It was then, in 2015, that it once again came up for sale and at a price that Kim and Maria couldn't believe – just £450,000 (don't believe us? Check out the original listing here).
For Kim in particular, ending up in a Scottish castle just felt right. From her long-standing love – and ever-growing collection –  of medieval-themed décor, to the revelation that despite growing up in Ohio her grandparents were in-fact Scottish, having migrated to the USA in the early 20th century in search of a better life. With her original family crest now hanging proudly above the fireplace, there is a real sense that Kim truly has really 'come home'.
That said, it wasn't an easy decision for Kim to make, who refers to herself as 'the sensible one' in the relationship.
"I wanted to make sure we could afford it. I was scared we'd make the move up here, fall in love, but then have to leave it behind again because the numbers didn't add up."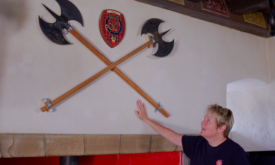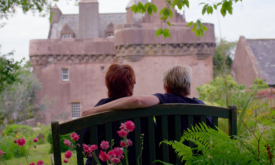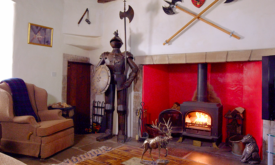 Providing the perfect balance for each other, Maria had a different attitude and was keen to 'get moving' once they'd been to visit and realised they might never have another opportunity quite like it.
"Once I've made my mind up about something I just want to get on with it!" she laughs.
Family is a recurring theme for the welcoming couple, who joke about how in-demand for visits they've been since buying the castle, and you can only imagine how magical a place the castle must be at Christmas time.
With utility bills of around £9,000 a year, a garden that never stops growing and a long list of maintenance and refurbishment tasks, owning a castle has been no small feat.
Operating as a bed and breakfast not only enables them to meet people from all over the world, it has allowed them to reinvest heavily into the property, such as upgrading the bathrooms and kitchen. There's no denying that it's been hard graft, but their enthusiasm and dedication has really paid off; given that they won an award for 'Britain's Quirkiest Place to Stay' in 2017.
From making new friends with the locals and putting Castle Levan back on the map, to being able to do yoga in the conservatory that overlooks the waterfall (yes – they have a waterfall!). From Maria's newfound love of chopping logs for the fire, to the ultimate wine-drinking perch on top of the battlements.
Despite never knowing what the next day will bring, both are resolute that this was, indeed, their right move.