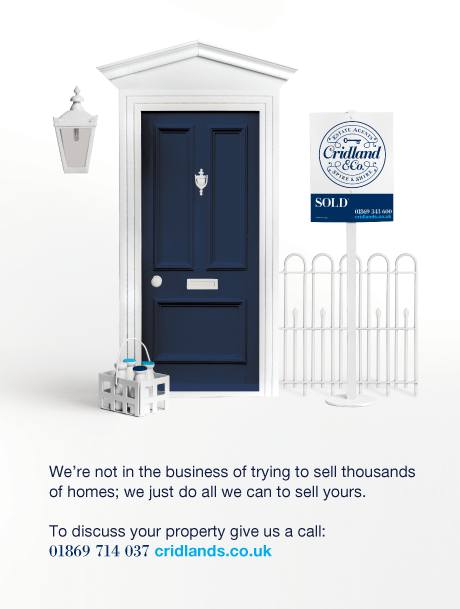 paragraph

Cridland and Co are a totally independent, family-run estate agency specialising in selling and letting property across North Oxfordshire and the Cotswolds. We are well known for handling properties of architectural or special interest, however our expertise covers a wide spectrum of prices and types. To us the average estate agent's standards might be good enough to sell washing machines but they are not good enough to sell houses.

paragraph

The classic estate agent tactic when pitching for business is "high price, low fee, long fixed term agency agreement - sign here". Unfortunately this usually costs the client more money than it saves. There is a lot of research to show that a competitively priced house actually sells for MORE money than the neighbouring property which started marketing at a higher guide price. And yet the "average" estate agency still stacks the shelves with as many properties as possible, relying on a law of averages which dictates some will sell and some won't. After all, as long as those that do can produce a profit who cares about those that don't?

paragraph

We are different from every other agency we know. We look to sell and let EVERY property we are given. You trust us to look after your property - probably your most valuable asset - and we take that trust very seriously. Our ethos is simple: Striving to exceed your expectations should be the rule not the exception.

To this end we actively keep our stock LOW! To most agents this sounds a crazy way to do business, in fact it allows us to spend more time per day on each property yet still remain profitable. As a result we sell and rent a higher percentage of our properties, so everybody involved wins.

Our service tailors the marketing to the need of the client, not the need of the agent. That is why we spend far more time, energy and money advertising each of our properties than we do our own services. Your property gains at least the same level of market exposure as any national/ international agent can provide, with the all-important addition of our time expenditure and local knowledge that they cannot.

We have yet to find another agent who can match this service.
Contact us
Check out our available properties
You can see the properties we're currently marketing for sale by clicking the button below:
View properties