Moving out of London for more space was our right move
When Tom and Jo settled on their West Hampstead flat five years ago, it had been a no-brainer of a decision; Jo grew up just around the corner in Dollis Hill and didn't want to be too far from home, plus, with both in Central London jobs they needed to be near a tube station and on a line that made sense to them. West Hampstead was able to deliver everything they needed.
For five and a half happy years, their one-bedroom, top floor, Victorian flat was the perfect home.
But then lockdown happened and with it came an unusually early heatwave.
"It was just too hot! Normally we'd only be around during the day at weekends and, even then, when the weather's good we'd be outside – but suddenly we could only leave the flat once a day. It was like being trapped in a greenhouse!"
And it wasn't just their new-found 'solar heating' causing havoc, it was their sudden realisation of a distinct lack of space which was heightened by the rules of lockdown advising people against leaving the house more than absolutely necessary.
"We've always loved the area and how close it is to the tube, but suddenly once transport stopped being a priority all we craved was green space and somewhere to go for a nice walk! We ended up going to Hampstead Heath most days just for a moment of respite."
With both needing to work from home with just their bedroom, living room, kitchen and bathroom to share, space was limited.
"We both needed to be on video calls throughout the day, so it just wasn't feasible for us to both be in the living room. We tried it on the first few days of lockdown and it was just horrendous!"
Thankfully, the resourceful pair came up with a hack to help ensure they each had a private space to work from – they would rotate the use of the hallway! Jo fashioned a makeshift workspace and began taking it in turns to work there throughout the week. A tiny rooflight window gave the lucky hallway worker a little glimpse of the outside world and a much-needed slither of natural light.
While this solved the issue of them needing separate work spaces, it didn't solve the issue of one of them being on a call while the other needed to get past – for example if they needed to either leave the house briefly, or if one of them needed to go through the living room into the kitchen.
"We kept accidentally interrupting each other's calls so we developed a secret code" recalls Jo. "I had a pink flamingo that I'd put on my desk if I was on a call so Tom knew not to disturb or walk past me, and he used this black painted skull that one of our friends made for us."
While they were able to laugh about the situation some days, life suddenly felt so far removed from the days where they loved their 'spacious large living room' which was perfect for hosting friends and having dinner parties. It suddenly now felt oppressive and cramped.
Unable to separate work from home, it eventually got too much.
"It was about two months into lockdown and Tom just announced 'Right – we're moving!' I thought he'd lost the plot. I was like 'Do you know how hard it is to move right now? You're in charge!' – I thought I'd let him go off on the wild goose chase of finding us a new place."
Determined to find them a new home Tom set off on his search, armed with their new criteria which couldn't have been more different to their current place: outdoor space, preferably a house, and with at least one spare bedroom.
It wasn't until the start of June that they found a two-bed house in Kingston that they liked the look of and went to check it out. But there was a queue… 14 people in front!
"There was a queue! And not even a small one – there must have been 14 other people in front of us. I genuinely thought they must have been queueing for a shop at first."
Not only was having so much competition from others off-putting, the property just wasn't what they were looking for.
"The ceilings felt really low, a bit of an off layout and despite the size there wasn't a lot of built-in storage space. It was also really close to a school – which is great if you have kids, but we don't and we couldn't get over how much traffic and noise there was!"
So back went Tom to his search, this time extending their location out to Surrey in the hope they'd be able to get more for their budget. It also helped that, prior to lockdown, lots of Jo's friends had starting leaving North London for Surrey, and Tom had friends nearby too having grown up in Guildford, so the prospect of moving to Surrey didn't feel too far or daunting for either of them.
They first looked at Weybridge and soon began to realise just how much more they could get for their money compared to London. With the long-term goal of buying their own place one day, they were happy to extend their budget slightly as long as it didn't hinder their ability to keep saving.
Each weekend, off they went to Surrey, exploring different areas by both foot and car to see what was around.
"It became this game of 'is there a decent supermarket nearby?' I don't know why, but something about having one nearby just made it feel like we were still in London."
Cobham and West Byfleet became the two areas of choice and so back Tom went to his search, honing in on the specific parts of each they liked the look of most.
The first place Tom found was a lovely two-bed furnished house in Cobham and he booked a viewing that day, a Friday, to see it on the Monday. But before they'd even had a chance to see it, it had gone – over the weekend, to someone who'd managed to beat them to it and get an offer in straight away.
It was then that he saw a place on Rightmove – a lovely two-bed flat, with its own private patio and shared garden – and, terrified of missing out, he booked a viewing for as soon as the agent could do.
There was just one problem – Jo was covering a number of colleagues on furlough at the time meaning taking time off to go on viewings just wasn't an option. He was going to have to go on his own.
"The plan was that he'd get me on facetime so I could do the viewing with him, but I ended up having to jump on a call at the last minute and so couldn't answer his call."
Thinking on his feet, Tom filmed a quick video walk-through on his phone and frantically sent it to Jo in the hope she could take a quick look and give her opinion. He knew they had to move quickly if they were serious about this one as there was another viewing lined up soon after theirs and the agent said that there had already been a lot of interest.
"I called him as soon as I could and remember asking 'that looks like damp – is it damp? Can you double-check? Are you sure it's ok?' It felt like such a big decision to make when all I'd seen was a video!"
But knowing they'd never be able to find a new place if they didn't move quickly, Jo looked up at the wall above her desk – the hallway wall – and was reminded of why they were doing this in the first place.
"I just had to swallow my nervousness and lack of control in the situation and trust Tom's instinct. I feel bad now, but I told him 'I trust your judgement, this is on you' – the poor guy must have been terrified!"
So that was that – Tom went back to the agent and made an offer there and then. The agent confirmed that one other person had already put an offer in, so it was now up to the landlord to decide which they'd like to proceed with.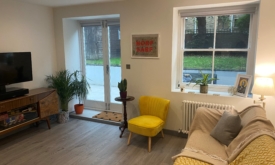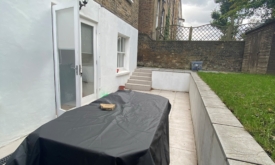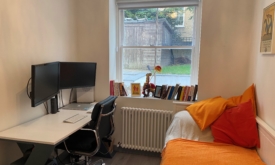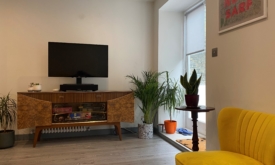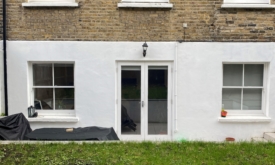 Thankfully, the landlord made a swift decision and just a day later the deposits were paid and the contracts signed!
It wasn't until a week after they'd officially secured it however that Jo was finally able to go and have a look herself.
"I was so nervous and kept waffling on to the agent about how they'd found lockdown rather than looking at the house as I was so worried I wasn't going to like it.  Every time I turned a corner or entered a room I kept thinking 'ok, stay calm, what's this room going to be like… oh… it's actually ok!' and it was! I really liked it. It was so much bigger and better than I thought it would be."
They've now been in their new place for a couple of months and are loving their new life in Surrey.
"We loved our last place but this is just so much better!"
Refurbished around 2017, everything is modern and still relatively new, which has been a welcome change from the Victorian conversion they'd spent the last five years in.
"We actually have a bath AND a walk-in shower… AND the bath fits me which is super rare as I'm really tall. Every day I get to ask myself 'which am I going to use today?' I just love having that option and it's so rare in London rentals."
In the end, the pair ended up paying £200 a month more than they were paying on their West Hampstead place but they really believe they're now getting so much more for their money.
So delighted with the area already, they've decided they're going to use the next couple of years to really get to know the area better so they can figure out where to buy in the longer term.
"It's been a big change, but the train only takes 20 minutes to get into Waterloo and, on the occasions we've been into the office since the move, we've been surprised by how easy and quick it really is as it turns out our total commute time really isn't that different to West Hampstead!"
With an outdoor area, the pair have already enjoyed countless barbecues, which is like a dream come true.
"We definitely can't be as spontaneous about nights out anymore, but when I do go into London now it feels like a real day out – it feels really special. And anyway, now I live near a river and I've got a bike and I cycle everywhere!"
So what's Jo's advice to others contemplating a similar move at the moment?
"I was so apprehensive about leaving the area I'd spent so much of my life in but now we've got everything we need to have a good time at our fingertips, and no one needs to work from the hallway anymore! It's helped us realise there's so much more to lockdown than another zoom quiz."