We wanted a new home and a new way of life
Reader's note: This article was first published on 20th October 2019.
When Abby and Matt decided it was time for a move, they weren't simply considering a straightforward change of postcode. After Abby had gone through cancer back in 2011, the couple was determined to follow their dream of creating a new start.
"We wanted to move somewhere we could live but also run a business," Abby explains. "Having a serious illness puts things into perspective. It makes you realise that you don't know what's round the corner so you've just got to get on with the things you want to do."
The plan was for Matt, a teacher, to give up his job in order to work in the business full-time, while initially Abby would continue her work as a management consultant four days a week, with the long-term goal that she could reduce those days once they had paid down the mortgage enough to allow her more time to work alongside Matt.
Similar properties currently on the market:
"When we started our search we set up instant alerts on Rightmove for both commercial and residential properties and drew up a search area within a 40-minute radius of where we were currently living in Devon – we wanted to stay close to family and friends which meant we were looking mainly in east and south Devon."
Their goal was to find an interesting and challenging business that had potential for growth. Abby also needed access to train lines so that she could continue her consultancy work. Once the decision had been made to go for it, their search began in earnest. Among other places, they saw a blueberry farm in the Dartmoor National Park and a beautiful vineyard with holiday lets in Devon, but nothing was ticking all the boxes.
"Then Matt, who had widened his search area, spotted Little Norton Mill in Somerset and said 'I know this is further away than you'd like but I think we should go and see it'." Abby was initially dubious, but she agreed to have a look.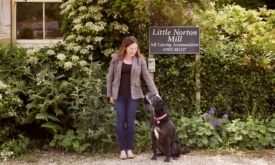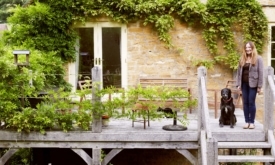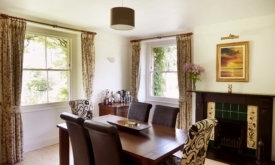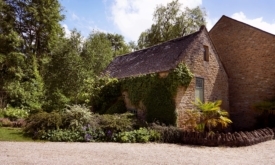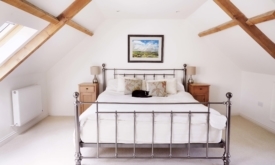 "As we drove through the village we were both, 'wow!'," Abby remembers. "It was stunning – then we saw the exterior of the property itself and it was just beautiful, so we knew we had to come back and view it properly."
Once they did they totally fell in love – their new home would be a stunning 18th century farmhouse that was ready to move into and already their style. It was set in seven acres of the most beautiful gardens and grounds including a mill pond, and a Grade 2 listed watermill that was restored in the 1990s and in full working order – a fairytale find.
And the business side? Well this worked for them too: four one-bedroom apartments and four two-bedroom cottages that were functional but ripe for an upgrade, plus there was the potential to expand the business with the possibility of adding Shepherd's Huts or log cabins in the grounds. And all this within spitting distance of three great country pubs, beautiful walking countryside and some great local tourist attractions.
Having found their dream home and business in one neat package and agreed a price (£1.3 million for the house and £120,000 for the business assets and goodwill) they now had to deal with the small matter of selling their house which was still on the market and threatening to scupper the deal. Desperate not to lose out, they did everything in their power to persuade their mortgage company to give them a bigger mortgage in the short term in order to bridge the gap.
"It was a huge risk and a big expense, but we were so committed to Little Norton Mill that we felt it was worth it," says Abby. The couple then had to tackle the sale process which was a lot more complicated than a straightforward house purchase.
"It took several months because we were buying a business," says Abby. "For the commercial mortgage we had to produce a thorough business plan and we also had to have a special valuation of the property called a Redbook valuation which values not just the property, but the business and all the assets. It was all pretty stressful, especially as I was still working full time on my 'day job', but thankfully our solicitors helped to guide us through it."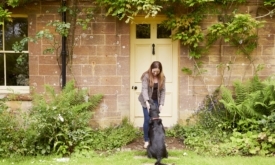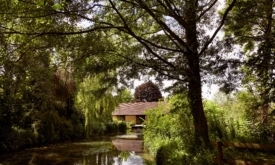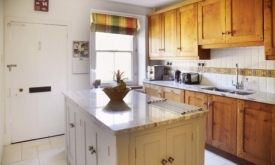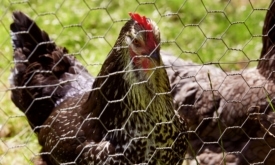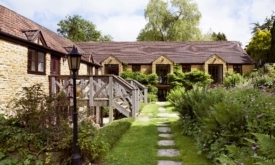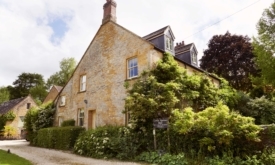 Taking on an up and running business rather than starting from scratch was essential as Matt was giving up work and would need an income from day one. In preparation for this new challenge they set up some training days prior to the move and made sure they were around to observe a change-over day to see how the whole process worked.
"We picked it all up very quickly and it's a good job we did as we were busy with guests from day one – it was a bit of a baptism of fire. Thankfully Matt wasn't phased by the enormity of it all – even though I abandoned him each Monday morning to continue with my consultancy work and didn't return until late each Thursday evening!"
They moved into the house in November and it wasn't until January that the couple got their breath back. Almost a year later and they are enjoying plenty of repeat business during their busy periods in Spring and Summer, and are now planning their first wave of renovations by sprucing up the four apartments which will happen during their quiet time in January and February.
"I don't get to enjoy as much leisure time as I'd like at the moment," admits Abby, "but there's light at the end of the tunnel – we're probably about two years away from me being able to work here full time." Now that they're settled into their new routines and have got over the initial shock of running a new business, they can also appreciate the home itself.
"The house is beautiful. There's a lovely loft bedroom and bathroom, and a big living area with lots of entertaining space. And the location is perfect – only a 10-minute walk into the village where there's a pub, shop and café. And the transport connections work for me as well with Yeovil and Crewkerne stations not too far away.  All these factors came together and made it the perfect property for us."
Looking back at the whole process Abby now recognises that Matt was right to spread the net a bit wider when it came to their search area. "It's a good job he did or we may never have found this place! So my advice to anyone thinking of making a big move is to maybe look a bit further afield if necessary – for me the compromise was 100% worth it. We can see a successful and very happy future here."
Need some pointers on how and where to find your dream home? Check out our buyers' advice page, here.
We'd love to share your special moving stories on Rightmove.
Submit your story for the chance to win an Amazon voucher!